Chicken in Italian Dressing
vrvrvr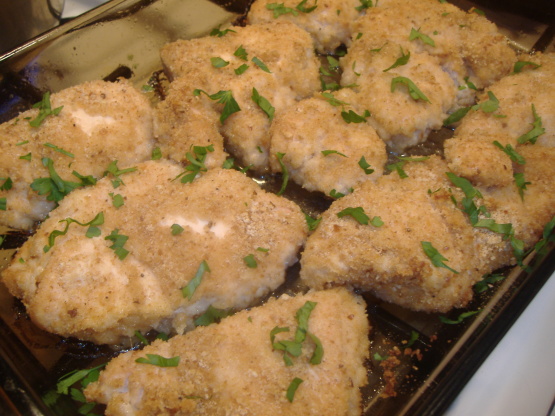 Top Review by vrvrvr
Very good chicken dish! I marinated 2.4 lbs. of pounded boneless chicken breasts in Italian dressing overnight. Then I sort of dried them off, ran them through mayo (stirred smooth with a little sour cream) and rolled them in breadcrumbs. The texture of chicken was superb: crispy outside and velvety inside. I wished for a little more flavor, given all the marinating time. Next time I will add more Italian seasoning to the breadcrumbs. Most at our table thought this was excellent!
Italian breadcrumbs
Italian dressing (Wishbone)
Put mayonnaise on chicken breasts, then coat with Italian bread crumbs.
After you get chicken coated with mayonnaise and bread crumbs, put in a 9x13-inch baking dish and then add Wishbone Italian dressing just enough to cover the bottom of the baking dish after half way through the baking of the chicken then baste the chicken with Italian dressing continue baking.
Total baking time is 45 minutes at 325°F.
Cover chicken while baking with foil.