Chicken in Garlic White Wine Cream Sauce
Miss JJ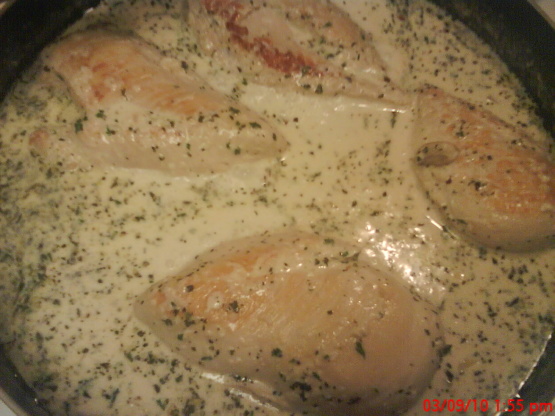 I have had chicken in white wine cream sauce at a local restaurant and found it was probably my favorite chicken dish. I have searched in vain for a recipe that would include all the ingredients I now only vaguely remember. So, in desperation, I found a basic recipe and have adapted it. I have made this a few times and found it very close to what I remember. The only missing ingredient is cheese. I have yet to remember what cheese was used (other than it was a white cheese). Eventually I will experiment with adding cheese, but for now I am really pleased with this version. I hope you like it too.

Very good,quick and easy to prepare.I went with 6 cloves of garlic and a pint of heavy cream.I also added a 1/2 cup of parmesan at the end and a teaspoon of cornstarch mixed with a teaspoon of water to thicken it up. Served it over white rice.
Lightly brown both sides of chicken in olive oil.
Add onion, garlic, mushrooms, and butter and saute about 4-5 minutes until onions start to become translucent.
Add wine and Worcestershire sauce and cook an additional 2 minutes.
Lower heat and add cream, salt, pepper, basil, and parsley.
Too high of heat will cause the cream to curdle.
Simmer on low 20-25 minutes until done.