Chicken Burritos With Cheese and Black Bean Salsa
PaulaG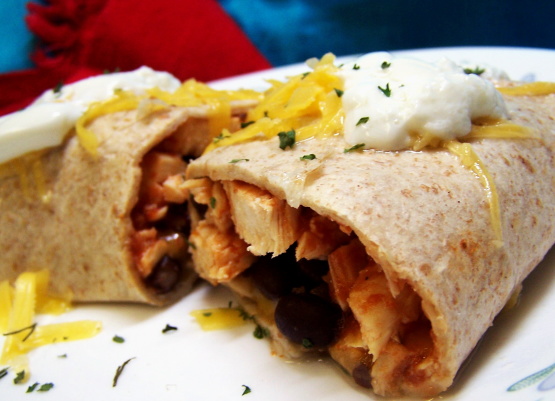 Adapted from a recipe at the Newman's Own site. This one's a quickie but goodie, handy when you have to eat in a rush! Instead of grilling, you can broil the chicken; as an alternative, you can also cut it into strips BEFORE cooking and dry-sauté the strips in a nonstick spray-coated pan.

Quick and easy! I couldn't find the bombolina sauce, so I just used a generic one. My family loved this and it will be a regular meal at our house now. My husband said it was the best burrito he ever had.
In one small bowl, toss chicken strips with pasta sauce and let marinate 10 minute.
In another small bowl, combine beans and salsa.
Place half chicken on half of one tortilla. Spread half the beans and salsa over chicken; sprinkle with half the cheese.
Repeat with second tortilla.
Roll tortillas up and place, seam side down, in a baking dish.
Bake at 375°F 5 minutes.
Top with a dollop of sour cream and serve.