Sara 76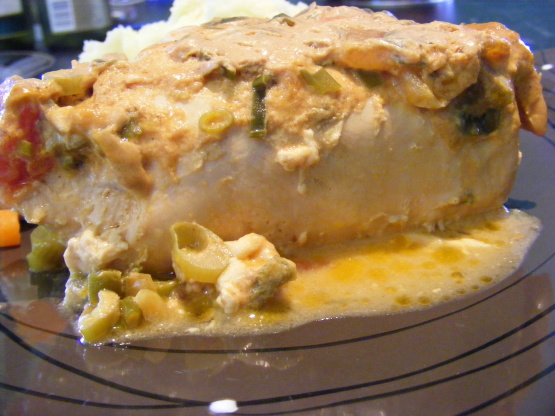 chicken breast rolled up in cream cheese and salsa, with very little preparation, cooked in a slow cooker. Very good for dinner parties, an supper.

Top Review by Mandy
What a lovely simple dish! Tasty too. Just wasn't sure about the texture of the chicken once cooked..I think I may have preferred a meatier chicken cut like a thigh as the breast was a bit too "shreddy" for my liking. Thanks for posting!
Pound chicken breasts to flatten.
In a large mixing bowl, beat cream cheese until smooth and add salsa, cumin, and onions.
Place heaping spoonfuls of cream cheese mixture on each chicken breast and roll up.(there will be leftover cream cheese mixture.).
Place chicken breast seam side down in slow cooker sprayed with vegetable cooking spray.
Spoon remaining cream cheese mixture over each chicken roll.
Cover and cook on low for 5-6 hours.