Chicken and Soba Noodle Salad
Bergy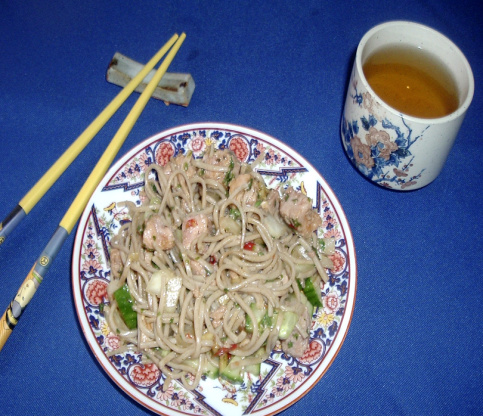 Good food for summer. We are having this for dinner tonight. Prep time doesn't include cooking the chicken.

Top Review by Bergy
I cooked too many soba noodles last night and am I ever glad I did. This salad is delicious. The dressing is special has a nice nip to it. I had to make two sustitutions the Lebanese Cuke turned into an English one and the red onion turned white and sweet (supply and demand.) Fresh Coriander I read as Cilantro (a favorite of mine). The dressing gives it tang, the chopped cucumber some crunch, the chicken adds to the flavor and is part of an interesting texture put it all together and it spells a very tasty salad, This is a salad that you can make upe a couple of hours before serving just let the flavors meld.Thanks Jan for sharing the recipe
Cook the soba noodles according to directions.
Drain and run under cold water to cool; drain.
Combine all the salad ingredients in a large bowl.
DRESSING: Whisk the ingredients together until combined.
Toss through the salad.
Serve.