Cherry Tomato and Bocconcini Pizza
katew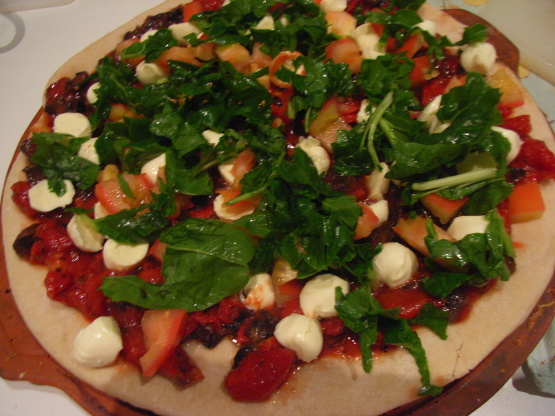 Bocconcini means small mouthfuls of cheese they are semi-soft, white and rind less unripened mild cheese and have a spongy texture. Originally made only from the milk of water buffaloes but cows milk is used now. Bocconcini are now available in supermarkets and packaged in whey or water. The originally recipe asked for 3 x 250 gram of cherry tomatoes but I thought it's a bit excessive as the 14 cm pizza can hold only about eight tomatoes. I topped ours with basil as I found rocket a little bitter. You welcome to skip the dough and use store buy a pizza bases or Lebanese bread, it's up to you. This recipe came from Sunday Hearld Sun, Sunday Magazine on 18 March 2007, it's a Donna Hay recipe
To make the dough, place the yeast, sugar and water in a small bowl and mix to combine. Set aside in a warm place for 5 minutes or until bubbles appear on the surface.
Place the flour and salt in a large bowl and make a well in the centre. Add the yeast mixture and oil stirring with a butter knife until a dough forms. Turn out onto a lightly floured surface and knead for 5 minutes or until smooth and elastic.
Place the dough in a large bowl, cover with a damp cloth and set aside for 30 minutes or until the dough is doubled in size.
Preheat the oven to 230oC/450oF/Gas 5.
For the topping, place the tomatoes, oregano, salt and pepper in a bowl and crush with a potato masher. Divide the dough into four and roll out each portion to a 14cm/5.5 inch round. Place on greasy baking trays and top each pizza with mozzarella, parmesan, bocconcini and tomato mixture and cook for 10-15 minutes or until golden and crispy.
Top with rocket to serve.