Lainey39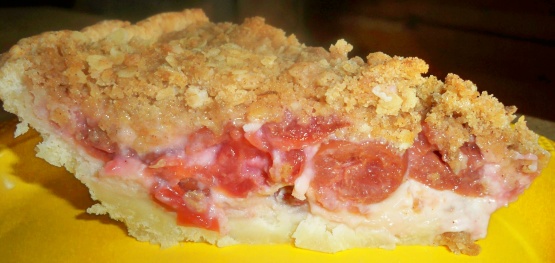 Haven't tried this out yet. It looks so yummy! I may give it a try this weekend when I go over for lunch with friends
In a large bowl, comine the sugar, flour, cherries, sour cream, egg and extract; stir well.
Spoon into the pastry shell.
Bake at 400 for 20 minutes.
For topping, combine the oats, flour, brown sugar and cinnamon in a bowl; cut in butter until mixture resembles coarse crumbs.
Stir in pecans.
Sprinkle over filling.
Cover edges of crust to prevent overbrowning.
Bake for 25-30 minutes or until topping is lightly browned.
Cool on a wire rack for 1 hour.
Store in the refrigerator.