berry271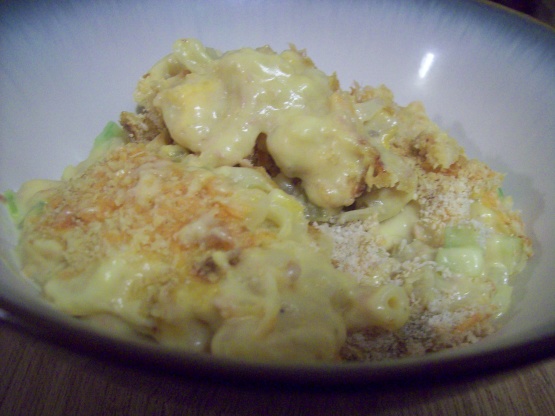 Nice, creamy, and cheesy. The kiddies'll love it for sure! (Leave some of the goldfish uncrushed for extra kid approval.) Very easy to make and a very easy way to "sneak in" some extra veggies for the kids.

Yes, very creamy and cheesy. I really liked this, even though I'm not a big Tuna Noodle Casserole fan. I think this will be my "default" Tuna Casserole recipe, as I typically have these ingredients on hand and I enjoyed this more than other recipes. I might also try preparing this w/o the tuna, just as a jazzed up mac and cheese or with ground beef instead of the tuna. However, if you do really like tuna, I might use 2 cans instead of just one, but one was good for me. I started by preparing the mac and cheese according to the box and then added the other ingredients. That worked out well. Spray the casserole dish with cooking spray so it doesn't stick. I wasn't sure at first about the onion and celery not being sauteed first, but they added a nice textural crunch. I might skip the crumb topping as it didn't seem necessary to me, but I'm sure kids would love the goldfish on top. This fits well in an 8 by 8 or a 11/2 qt. casserole dish.
Cook macaroni noodles until tender and drain.
Mix together all ingredients (except 1/2 cup of the cheddar and the crushed crackers) in 3 L casserole dish and top with remaining 1/2 cup of cheddar and crackers.
Bake at 325 degrees for 30-40 minutes.