Cheesy Potato Soup ( Crock Pot )
Catnip46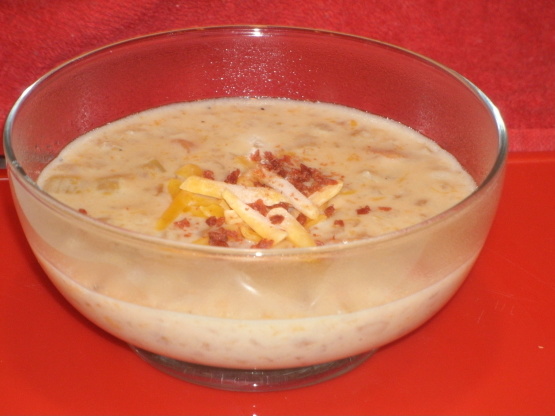 This soup is what I make for my family every Christmas Eve. I love using the crock pot, especially during the holidays. To cut down on time, I always use frozen hash browns- (diced, not shredded) for the 6 cups of potatoes. I've also added cheddar cheese along with the Velveeta cheese.This soup is delicious served in bread bowls.
This was absolutely AMAZING! My hubby said it was the best potato soup he has ever had! Even my picky little girl loved it! I love that this soup has other veggies in it! The only thing I altered was not using chicken bullion, simply because I didn't have any and we opted to exclude the ham and it was still delicious! I highly recommend giving this recipe a try!
Combine all ingredients except milk and cheese in a large crock pot.
Cover. Cook on low 7-8 hours, or until vegetables are tender.
Stir in milk and cheese.
Stir until the cheese melts.
*Be sure crock pot is at least 5qt or more.