DeniseBC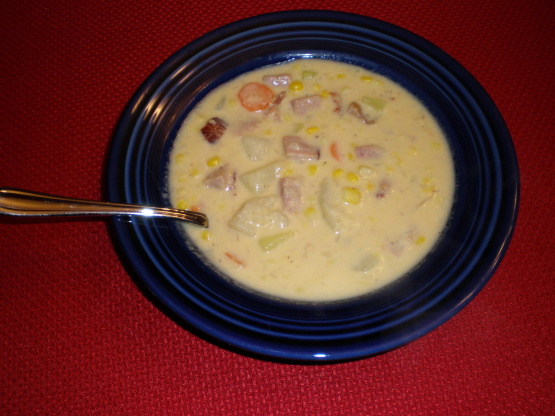 This is a wonderful Fall recipe. It came from a "Taste of Home" magazine. It is warm, filling and makes quite a bit. One of our favorite soups!

A great soup. I made a few changes- omitted the bacon and carrots and used creamed corn instead of regular corn. The soup was quite thick so I had to add a bit more milk. This was a great way to use up some leftover ham!
In a dutch oven or large soup kettle cook bacon over medium heat until crisp.
Drain.
In the leftover drippings, saute onion and carrots until tender.
Stir in flour until blended.
Gradually add milk and water.
Bring to a boil.
Cook and stir for 2 minutes or until thickened.
Add the potatoes, corn, bouillon and pepper.
Reduce heat, simmer, uncovered for 20 minutes or until potatoes are tender.
Add cheese and ham.
Heat until cheese is melted.
Stir in bacon.