juliadjulie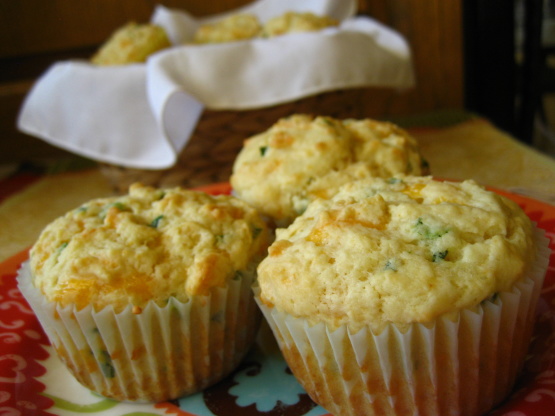 This recipe came from a lady who worked in the Bell Canada cafeteria for many years. They were a favourite coffee break snack for most employees.

These were really good. I used 1 cup of sharp cheese and about a 1/4 tsp of cayenne pepper. I served them with chili and they were perfect. Very quick and easy to make.
Preheat oven to 350 degrees F.
In a large bowl, combine milk, melted butter, egg& cayenne.
In a second bowl, sift together flour, baking powder, sugar& salt.
Stir in cheese.
Add flour mixture to milk mixture and stir batter until it is just combined.
The batter should be lumpy.
Spoon the batter into muffin tins (buttered or lined) filling each about 2/3 full.
Bake 20- 25 minutes.