Parsley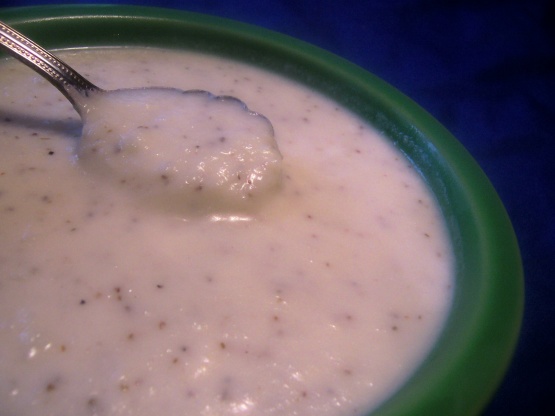 Posted for Zaar World Tour 2006, this popular Scandinavian soup can be served warm or chilled and can be accented with a few spoonfuls of Madeira wine put into the individual servings
Heat two cups water to boiling in large saucepan; add cauliflower and onions; heat back to boiling then reduce heat, cover and simmer until tender, about ten minutes; do not drain.
Pour everything into blender container (may have to do this in more than one batch) and blend on high speed until smooth.
Heat butter in large saucepan until melted; stir in flour; cook, stirring constantly, until mixture is smooth and bubbly; remove from heat.
Stir in 1 cup water; heat to boiling, stirring constantly; boil and stir for one minute.
Stirin cauliflower mixture, bouillon, celery salt, salt and pepper; heat just to boiling.
Stir in half and half; heat just until hot, do not reboil.
Sprinkle each serving with nutmeg.