Gourmet's Roasted Cauliflower Soup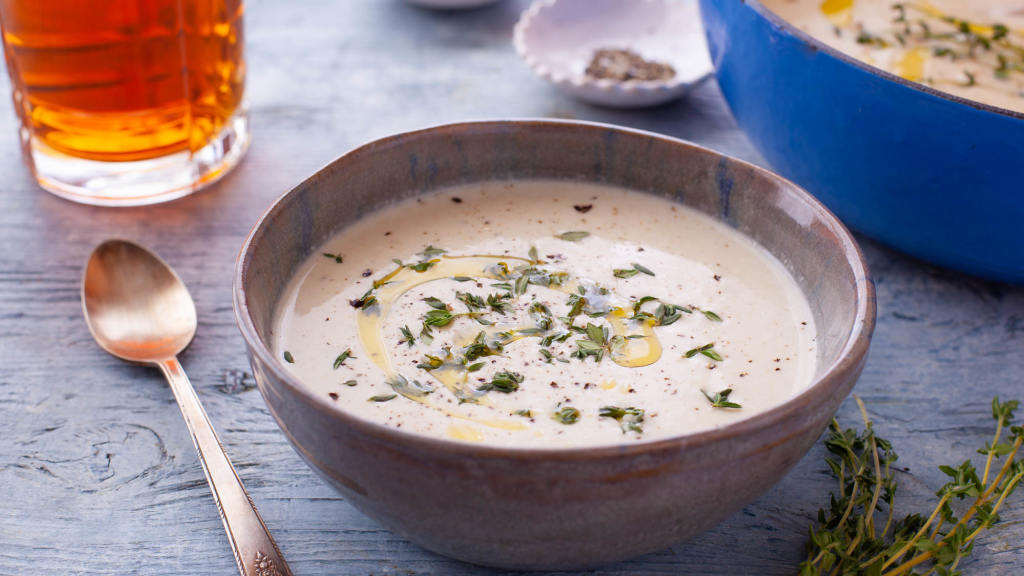 Ready In:

1hr 5mins

Ingredients:

10
directions
Preheat oven to 425°F.
Cut cauliflower into 1-inch flowerets (about 10 cups).
In a large baking pan toss cauliflower, garlic, and shallots with oil to coat and roast in middle of oven about 30 minutes, or until golden.
Turn frequently and remove any of the garlic and shallots if they are done soone.
In a 4-quart pot simmer stock/broth, water, roasted cauliflower mixture, and herbs 30 minutes, or until cauliflower is very tender.
Discard bay leaf and in a blender puree soup in batches until smooth (use caution when blending hot liquids), transferring to a bowl.
Return soup to pot and stir in cream and salt and pepper to taste.
Heat soup over moderate heat until just heated through.
Note: You can easily alter the proportions of stock, water and cream to taste.
Join The Conversation
I had a head of cauliflower and cream cheese to use up and first found this recipe as a vegan recipe, then found the Gourmet Magazine recipe on epicurious, and then this copy here. I cut the recipe in half as I don't need to cook 2 heads of cauliflower. I originally roasted it-the one recipe had you broiling it-please! I'm not even sure my broiler is functional, and I didn't want black cauliflower and a broiler pan to clean. After I finished roasting it, I added water, the garlic cloves, a bit of onion, and the top of a yellow bell pepper cooked it for 30 minutes, and then added some non-fat milk so I could blend it. It was more bland than baby food-and that's really hard to accomplish. I added some Reduced Sodium Better Than Bouillon Chicken Base, and half a TBSP of Gibson's Roasting Salt (recipe is on this site), and about 7 oz. of cream cheese and then blended it again. That made all the difference. It's pretty thick-almost like a gravy, but the pictures of the other recipes look pretty thick, too. It's very, very good. I thought about thinning it, but I didn't want to mess with it. I don't have any wine that would work, and I didn't really want to go that route, or the Worcesteshire Sauce route either as I'm watching my sodium. I froze two quart bags of it, and I just might use those as gravy over roast chicken, or noodles, or, who knows, mashed cauliflower. How many recipes can double as soup and as gravy? I've made worse batches of both, and whichever way I decide to use it out of the freezer, it will work beautifully, I think. This recipe's a keeper.

 
RECIPE SUBMITTED BY
AND that is the end of this. If the phone doesn't ring? It's me. If you are looking to ask me a question? I'm not here. I won't answer. I do not assure you that the ingredients, amounts or even the directions in any recipe under my two accounts are correct due to the bad directional pointer in the database that is causing problems with the amounts or ingredients. I will also NOT assure you they are correct when the site claims they are fixed. Use at your own risk. They will be correct on my site. End of story. Sigh.. OK IF YOU ARE LOOKING FOR JESSIE'S KEY LIME PIE? Google the name. It's all over the net. ~~~~~~~~~~~~~~~~~~~~ The opposite of the religious fanatic is not the fanatical atheist but the gentle cynic who cares not whether there is a god or not. - Eric Hoffer And no I didn't let the door hit me on the ... on the way to my site at <A HREF="http://chef.philocrates.tripod.com">Philocrate's recipes </A> where at least I can take responsibilty for mistakes in recipes.
View Full Profile