Sara 76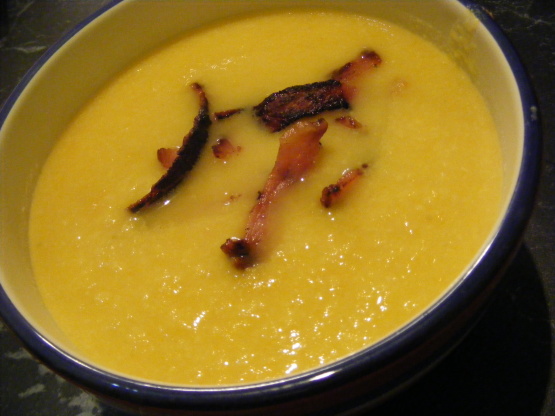 This is one of Jamie Oliver's recipes. It is delicious! My whole family loves this, even my 8 year old..and he doesn't usually eat soup at all!! I totally recommend adding the bacon as a garnish, it really finishes it off!

I tried this recipe because I am out of butter and milk which are included in every other recipe for this soup. It is excellent! Of course I am out of carrots too, so I threw in a couple of potatoes. Very very good! I guess I need to go shopping!
Peel and roughly chop the carrots.
Slice the celery.
Peel and roughly chop the onions.
Peel and slice the garlic.
Cut the cauliflower into 1.5cm slices.
Put a large pan on medium heat and add 2tb olive oil.
Add all your chopped and sliced ingredients and mix together with a wooden spoon.
Cook for around 10 minutes with the lid askew, until the carrots have softened but are still holding their shape, and the onion is lightly golden.
Grate the cheddar into a bowl and put to one side for later.
Put the stock cubes into a jug or pan and pour in 1.8 litres of boiling water from the kettle.
Stir until the stock cubes are dissolved, then add the vegetables.
Give the soup a good stir and bring to the boil.
Reduce the heat and simmer for 10 minutes with the lid on.
Remove the pan from the heat.
Season with salt and pepper and add the cheese and mustard.
Using a hand blender or liquidizer, pulse the soup until silky smooth.
Divide between your serving bowls and grate over some nutmeg, if you like.
If you want to dress it up a bit, top it with some lightly fried crispy bacon.