flower7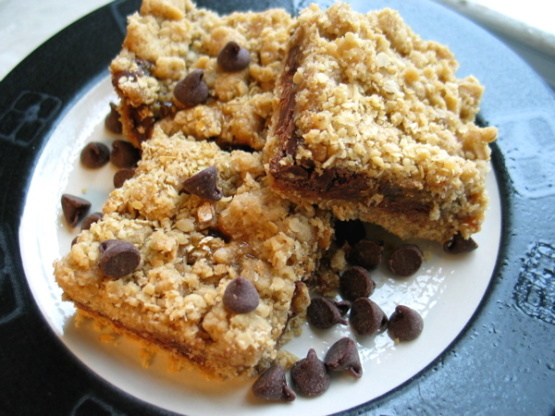 Found my old recipe box and this one was in it. Can't even remember who the MCP was that gave me the recipe any more, but it sounds wonderful and she says that is is very easy.

WOW YUMMY! Can't rate this one less than a fiver! EXTREMELY RICH...I suggest cutting the tray into 24 pieces :) I used butter instead of margarine and also only had a 12 ounce bag of chocolate chips, but otherwise followed to a T. Suggestion: I would not use more than a 12 ounce bag...these are very, very chocolatey (a GOOD thing)! These were easy to make, too, so 5 stars all around. Thanks for posting...will be making these often. P.S. Posted a picture that absolutely cannot show how yummy these are!
Preheat oven to 350°.
Cream brown sugar and margarine.
Add dry ingredients reserving 3 Tbsp of flour and stir in the oatmeal.
Press 1/2 of the mixture in the bottom of a greased 9 x 13 pan and bake for 10 minutes.
Sprinkle chocolate chips over crust.
Mix caramel topping with the reserved flour.
Drizzle this over the chips.
Sprinkle the top with the remaining crumb mixture.
Bake for an additional 15 minutes.