Canned Pizza Sauce for a Year
reidthis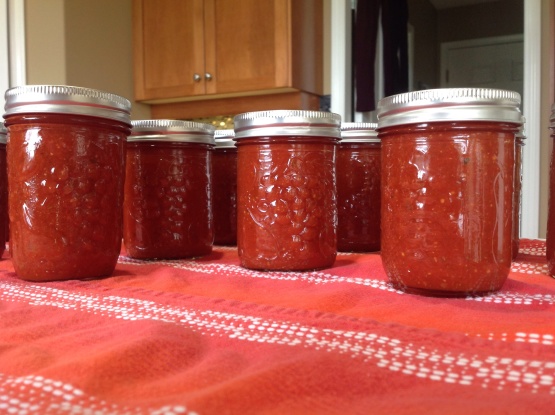 This makes about 36 pints. For any Italian dish, chicken, or pasta. If you like to can, then can enough to last awhile. I have never tried using a sugar substitute but it might be added after boiled, then mixed in. You might be able to use a liquid sweetner.

This was an easy and tasty recipe to make. I added the olive oil to the recipe while cooking as I would forget to add it when I open the jars. I like to make mini pizzas with the kids and never buy pizza sauce so this fits the bill. Thanks for a great recipe
In large stockpot add the first 10 ingredients. Stir and cook on low heat.
Chop onions and celery, add to 3 cups of water in a separate pot. Cook until tender.
Put the onions and celery in the blender. Pulse until pureed. Add to sauce ingredients.Add parmesan cheese,white pepper and sugar. Stir. Heat to a boil and stir so that it will not scorch.
Pour into hot sterile pint jars, leaving 1/2 inch head room in each jar. Wipe the edge and top of each jar with a hot sterile cloth, seal and band.
Hot water bath for 10 minutes.
Take out with tongs on towel covered counter. You will hear a pop when each jar is sealed. The seal will be indented inches.
When you open jar to use, add 2 tblsp. olive oil. Stir in to heat or to spread on
dough, chicken or pasta.