podapo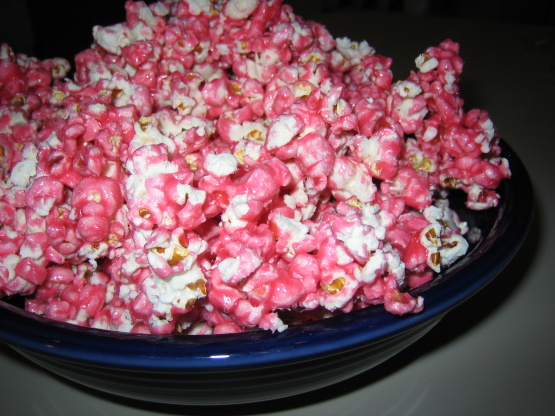 I've been looking for this recipe for years, as I'd lost it. It finally dawned on me to go to their website. Direct from the Lorann Candy oil site! All times are approximate as I really don't remember, but I'll be making this over the weekends again.

Hi! This popcorn turned out really great!!! Just take your time and follow ALL of the steps. Have your flavor and color open and ready to pour. If you are going to divide the recipe have each bowl and spatula ready also. I did eggnog, root beer, and black cherry flavors. Pictured in the photo below. The popcorn broke up really nicely, yet stuck together nicely too. I was surprised even uncomfortable with how thick the mixture was in the pot. You must watch it closely because it will burn quickly. Also be careful so you don't get burned. "stuff is thick" Once it gets to cooking it takes no time to boil. I tripled the recipe and used 36 cups (12 cups per flavor) of popcorn. Can not wait to get this down to a science because it turned out simply wonderful for my first time.
Keep freshly-popped corn warm in large baking pan in 200°F oven.
Combine sugar, corn syrup, butter, salt and cream of tartar in medium saucepan. Bring to boil, stirring constantly. Cook to 250°F without stirring.
Remove from heat. After boiling action ceases, add flavoring and color. Add soda and stir in quickly but thoroughly. Pour at once while foamy over warm popcorn; mix gently to coat corn. Shape into balls or spread onto cookie sheet and break into pieces when cool.