podapo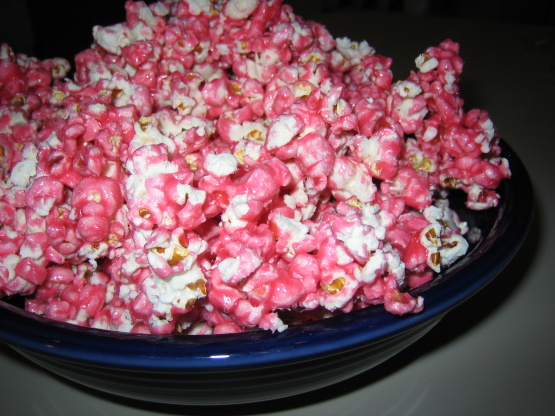 I've been looking for this recipe for years, as I'd lost it. It finally dawned on me to go to their website. Direct from the Lorann Candy oil site! All times are approximate as I really don't remember, but I'll be making this over the weekends again.
Been looking for this candy popcorn for years. I remember getting this popcorn from the mall in rainbow colors. I couldnt find any flavoring at the store, so I used tropical fruit kool aid mix. This came out better than expected and I know what i'm gonna make next time I have sweet tooth. Thanks!!
Keep freshly-popped corn warm in large baking pan in 200°F oven.
Combine sugar, corn syrup, butter, salt and cream of tartar in medium saucepan. Bring to boil, stirring constantly. Cook to 250°F without stirring.
Remove from heat. After boiling action ceases, add flavoring and color. Add soda and stir in quickly but thoroughly. Pour at once while foamy over warm popcorn; mix gently to coat corn. Shape into balls or spread onto cookie sheet and break into pieces when cool.