Cinnamon Candy Popcorn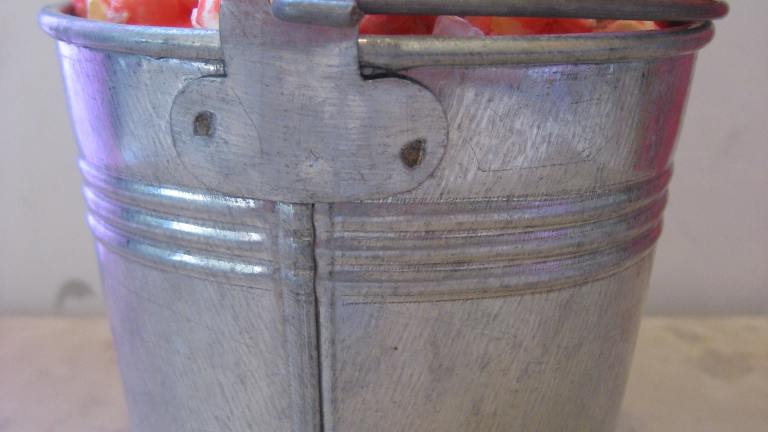 this is yummy!! You will need enough granulated sugar to fill a 2 cup measuring container to the top with sugar after you put red hot candies in jar..
Ready In:

1hr 10mins

Yields:

Units:
directions
Preheat oven to 250*.Pop 1 cup of popcorn -- (you should have about 6 quarts popped).
Butter a large roasting pan. Combine the popped corn in the prepared pan. Place in the oven while preparing the glaze.
Place red hot candies in a 2 cup measure and fill to the top with granulated sugar. Boil red hot candy, sugar, butter, corn syrup and salt for 5 minutes.
Remove from the heat and add baking soda and oil --
Stir well and pour over popped corn, tossing quickly to distribute evenly.
Bake for 1 hour, stirring every 15 minutes.
Remove from oven, Using a metal spatula, free popcorn from the bottom of pan.
Let cool completely in the pan.
Break into clumps.
Store in an airtight container at room temperature for up to 1 week.
Submit a Recipe Correction
RECIPE MADE WITH LOVE BY
"this is yummy!! You will need enough granulated sugar to fill a 2 cup measuring container to the top with sugar after you put red hot candies in jar.."
I just finished making this tonight. I have *NEVER* had this so I was very interested in making it. I have never made candy before, other than peanut clusters and fudge. For a candy novice--the directions were lacking some info that would have been helpful. Like what to boil the candy in? Or what temperature? To stir or not to stir was a question too. I figured it out but with much apprehension. It came out great, and will make my Christmas candy/ cookie gift list but I had to take a star away because of the missing directions. Thanks for a great new experience for me! The cinnamon popcorn is wonderful!

Made these this past weekend. What a treat it was to have this Great snack while the blizzard in my area was going on. This is by no doubt a memorable popcorn! I used Hot Tamales because I couldn't find the red hots. I believe that the red hots may melt better because they are smaller in size than the Hot Tamales. The only complaint I have is that because the Hot Tamales didn't dissolve completely, they stick to your teeth. Otherwise, this is a perfect recipe and one I'll be making many more times for years to come. I also used regular cinnamon because I didn't have the cinnamon oil, but I will be investing in the oil soon. If anyone has made them with the red hots, please let me know if the melting and sticking to your teeth is an issue.

I have had cinnamon popcorn only once long ago; but I remember just how delicious it was. That's why I was excited about finding this recipe. <br/><br/>I followed the recipe exactly, and this popcorn was as wonderful as I remember. I took a batch to work to share and get feedback to see if it was something I should add to my holiday treat list. The red color was a bit off-putting to most it seemed. The bag sat on the break table for several hours before anyone actually tried it. But then person after person was tracking me down to tell me how remarkable the popcorn was. While it's not everyone's cup of tea, those who like it, love it! It is definitely now on my holiday list to share with those I really like.<br/><br/>Note: I asked my pharmacy to order me cinnamon oil. You can find it at some craft/candy supply stores, but it is more expensive buying that way as the vials of oil are tiny and approximately $3 each. I was able to get a full ounce of cinnamon oil from the pharmacy for $8, which will allow me to make quite a bit of cinnamon popcorn for the season at a reasonable price.<br/><br/>I really love this recipe and thank you for sharing it.