Cake in a Cup Mix - Cupcakes
Pam-I-Am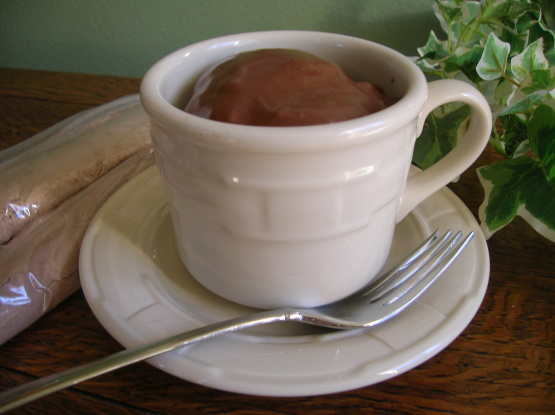 Great for college students or seniors--a sweet treat anytime. Try different flavors of mixes. Use large ceramic mugs with a design to fit the occasion.

10 Stars!! My little guy has a nut allergy and was going to a birthday party today where he wasn't going to be able to have the cake. I didn't want to make a whole batch of cupcakes because we still have a lot of Halloween candy left. I found this recipe and I'm thrilled! I doubled it so DH would have one to eat with DS. I used a whole egg, dark chocolate cake mix and vanilla pudding as that's what was in the pantry. I baked it in my large toaster oven at 325 for about 20 minutes. I was trying to avoid that microwaved texture plus I was afraid that the batter would run over while cooking as my mugs are odd sized. After they were cooled I sliced off the top because they were really big and it would be easier to frost them. I let DS pick out his sprinkles and off he went. I ate the top. These are very, very good. I will always have some of this in my pantry ready to go. Besides being great to eat, this has solved a dilemma for me. I am grateful.
1

(18 1/2 ounce) box cake mix

1

(3 1/2 ounce) box instant pudding mix

3

cups powdered sugar, divided
4 1⁄2 tablespoons flavored powdered coffee creamer or 4 1⁄2 tablespoons powdered cocoa mix, divided
Place dry cake mix and pudding mix in a large mixing bowl and stir well to blend.
Measure out 1/2 cup portions and place each in a plastic sandwich bag with a tie closure.
Tuck each bag in a large ceramic mug that will hold at least 1 1/2 cups of water.
Because the cake is microwaved, be sure the cup does not have any metallic decoration on it.
Place 1/3 cup of powdered sugar and 1 1/2 teaspoons of powdered creamer or hot cocoa mix into additional sandwich bags; secure with a tie and attach to cake mix bag, labeling as glaze mix.
Attach the following directions to each mug of mix: Generously spray inside of coffee mug with non-stick vegetable spray. Empty contents of cake mix bag into mug and add one egg white, one tablespoon oil and one tablespoon water. Mix until well blended. Microwave on high for 2 minutes. While cake is baking, place glaze mix into a small bowl and add 1 1/2 teaspoons water; mix well. When cake is done, pour glaze over cake in the cup and enjoy while warm.