Braised Chicken Drumstick With White Wine
ImPat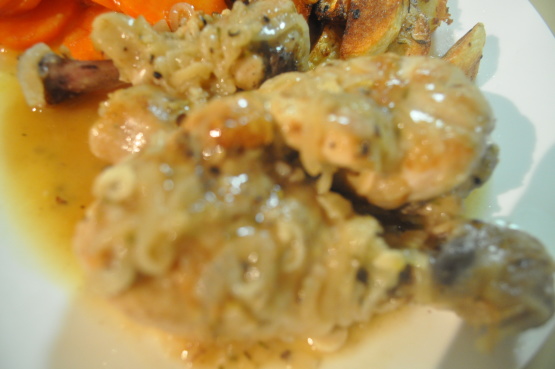 Top Review by ImPat
We really enjoyed this for tonights dinner I used 1/2 a small red onion in place of the shallot and 2 brown onion but followed through with the rest of recipe until I got to the reduction for the onion sauce but sorry I had to add a cornflour/cornstarch with water mix to thicken (even after boiling for 10 minutes but it thickened it and gave it a nice sheeny gloss as well) and overall the meal was delcious, my drumstics were cooked in about 30 minutes and a big bonus was that the DM wanted to save hers for lunch but I said she had to taste for an opinion and voila 2 drumstics eaten. Thank you Boomette, made for Everyday A Holiday.
Sprinkle salt on the chicken drumsticks. In a large skillet, heat butter and oil at medium-high heat until butter has melted. Add chicken and cook for 10 minutes (flip often). With a pair of tongs, remove the chicken from the skillet and put it in a plate.
In the skillet, add onions, shallots and garlic. Cook, scraping the bottom of skillet to remove the bits, for 5 minutes or until onions are tender.
Put back the chicken in the skillet and sprinkle with thyme and 1/4 teaspoon pepper. Add white wine, chicken stock and bay leaf. Bring to boil. Reduce heat, cover and let simmer for 45 minutes or until chicken is tender (drizzle with cooking liquid from time to time). Put the chicken in a serving dish, cover and keep warm. Let reduce the cooking liquid, uncovered, for about 10 minutes or until it has the consistancy of a gravy. Add salt and pepper. Remove bay leaf.
When ready to serve, garnish each serving with the onion gravy and sprinkle with mint, if wanted.