Blueberry Sour Cream Cake
Bev I Am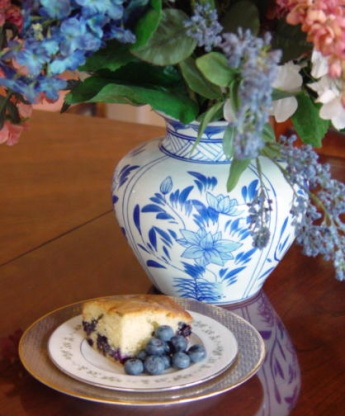 This is a recipe from my mom, more of a coffee cake, really. I remember enjoying it in the summer with blueberries we picked ourselves. Now when I make it, I remember my mom & those small kid days. I hope you will enjoy this recipe.
I followed the recipe exactly as directed ,and I made my cake in a bunt pan. It is taking a little longer to bake bacause of using a deeper pan but it's almost done .I will get back on how it turned out.
Cream butter& sugar.
Add eggs one at a time, beating well after each addition.
Sift dry ingredients together.
Add gradually to egg mixture, alternating with sour cream, ending with flour.
Stir in vanilla, then fold in blueberries.
Pour into a greased& floured 9 by 13" pan.
Bake at 325 for 45-50 minutes, or until cake tests done.
Cool in pan for 10 minutes, then remove to rack for final cooling.
(Or just leave in pan.).