Katzen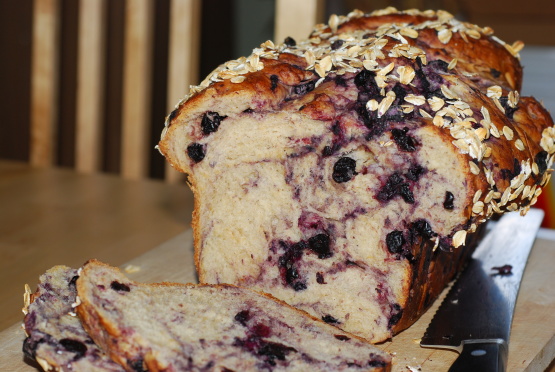 This delicious sweet bread has frozen and dried blueberries in it! I do hope you can find dried blueberries because they are so good. If not try dried cranberries or raisins. Great cut fresh all by itself, spread some butter or cream cheese on it, toast it, bake into a great bread pudding or make some yummy blueberry French toast.

Top Review by Katzen
Rita, this bread is delicious! It's perfect for breakfast with peanut butter - no jam needed with all those berries! I used my bread machine to make the dough, but the beeper doesn't go off on the dough setting, so when it completed, I took the dough out, and placed it in my KA, tossed in the berries (I have both frozen and dry on hand), and mixed it for about two minutes. Then I dropped it into a parchment paper lined loaf pan and let it rise for 30 minutes or so. I sprinkled it with oatmeal, and baked it in a preheated 350-375 oven for around 35 minutes, and out came an absolutely gorgeous loaf of bread!! I just love the hints of cinnamon and cardomon in here, neither are overpowering. Thank you, Rita, this is definately a keeper! Made for our VIP, Rita, in Veggie Swap 29, December 2010!
Mix the berry mixture ingredients together set aside in refrigerator.Where they will semi defrost.
Place all ingredients except Berry Mixture in the bread machine pan in the order suggested by the manufacturer.
Select machine to basic normal setting/with the fruit and nut setting.
Add the Berry Mixture when the machine beeps at the last kneading.
Take Note:.
The berries will pop and make beautiful purple streaks throughout the bread.
If the berries make the dough to moist just add some more oatmeal so the blueberries mix into the dough. Or you can remove when the machines kneading cycle stops and knead on a floured dough board just to blend in the berries then add back to machine let rise and bake.