Blackened Shrimp Stroganoff
Thorsten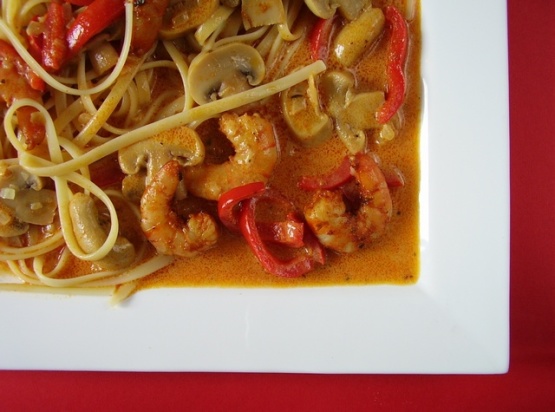 From Better Homes and Gardens 75 years of all time favorites.I have made this many times and it is very good,very simple and not costly to make.Serve with salad and good crusty bread to mop up the sauce and ENJOY!!!!Chicken can be subbed for the shrimp.

I added fresh spinach leaves wilted into the sauce at the end, which looked beautiful against the red peppers. A wonderful company meal.
Peel and devein shrimp.
In small mixing bowl combine shrimp and oil.
Add blackened seasoning,stirring to coat shrimp.
Set aside.
In a 10-inch skillet cook mushrooms and shallot in hot margarineor butter until tender.
Remove from skillet.
In same skillet cook and stir shrimp over medium-high heat for 2-3 minutes or until shrimp turn pink.
Remove from skillet.
Add the 2/3 vermouth,wine,shrimp or chicken broth to skillet.
Bring to boiling.
Cook,uncovered,until reduced to 1/4 cup (2-3 minutes).
Stir together the sour cream and cornstarch;stir in the 1 cup shrimp or chicken broth.
Add to skillet.
Cook and stir until thickened and bubbly.
Cook 1 minute more.
Stir in the shrimp,mushroom mixture,roasted peppers.
Heat through.
Season to taste with salt.
Serve over fettuccine or rice.
Makes 4 servings.