Black-Eyed Peas With Mustard Greens and Rice
PaulaG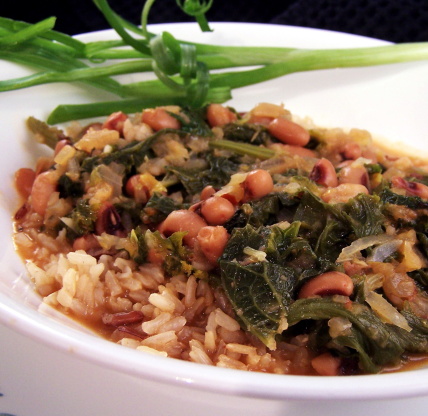 Adapted from: "Vegetable Soups from Deborah Madison's Kitchen". "A homey Sunday-night sort of soup that makes no pretensions to being hoppin' John or any other southern dish but simply a bowl of delicious nourishment. I've found that frozen black-eyed peas take as long to cook as dried ones that have been soaked--a good hour and a half. Brown butter mixed with roasted sesame oil has a vaguely meaty flavor, which isn't detectable as either butter or sesame." "Smoked Spanish paprika stands in for the smoky flavor of bacon or ham."

Changed a few things for personal preference's sake. I used vegetable broth instead of just plain water to give it a little more flavor, and cut back to just one onion. I also used olive oil instead of sesame because it was what I had on hand, and canned peas, and turnip greens instead of mustard greens. Hearty, delicious on white rice. Will definitely make again.
Melt the butter in a wide soup pot over medium heat and let it brown for several minutes until it smells nutty.
Add the sesame oil, then the onions, bay leaves, celery, garlic, thyme, chile flakes, smoked paprika, cumin and celery leaves.
Cook stirring occasionally, until the onions have browned, about 20 minutes.
Stir in the tomato paste, then add the beans (drain them first if you used soaked dried), 2 quarts water, and 1 tsp salt.
Simmer, covered, until the beans are tender. Taste for salt and season with pepper.
Cut the mustard greens off their stems and wash them. Simmer in salted water to cover until tender, a few minutes, then transfer to a strainer, rinse with cool water, and chop. Stir them into the beans.
Taste once more for salt and season with plenty of pepper.
Add a few spoonfuls of rice to each bowl and serve with Tabasco, Crystal, or other favorite hot sauce on the side.