Biftek Hache a La Lyonnaise
Marlene.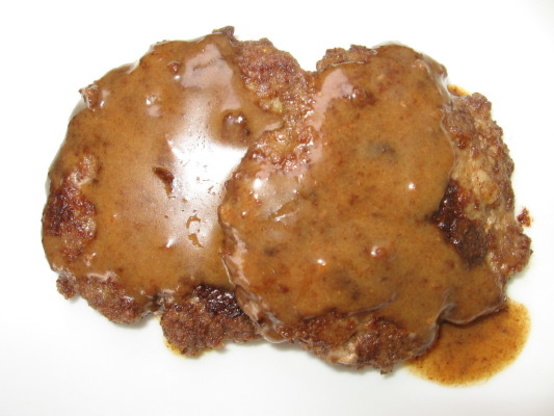 This is a Julia Child's recipe from Mastering the Art of French Cooking, Vol.1 pp. 301-302. I used to make these for company even, they were that good. Have been making them for years. Good, good flavor - don't let the long list frighten you away. The vermouth is the best!

I modified the recipe for myself a bit. I substituted half the butter for sauteing the onions with fresh bacon grease and added pressed garlic. I also added a tb of bacon grease to the meat, rather than butter and added crushed saltine crackers to off set greasiness and excess moisture. I modified the sauce to increase amount for a side of garlic mashed potatoes by adding: mushrooms sauteed in butter, a splash of red wine, 2 cans beef broth, and some cornstarch mixed with water before adding the garlic butter from the recipe in Julia's book. Served a side of greenbeans with it as well. The results were fantastic!
Cook the onions slowly in 2 Tablespoons of butter (about 10 mins) until tender not browned.
Place onions in mixing bowl. Add the beef, butter (or suet, marrow or pork fat) the seasonings and the egg; mix well.
Form into patties 3/4" thick.
Cover & refrigerate till ready to use.
Just before sautéing, roll the patties lightly in flour.
Shake off any excess flour.
Place butter and oil in heavy skillet over med-high heat.
When butter foam begins to subside, saute the patties for about 3 minutes per side (or more depending upon how you like your burger).
Place burgers on serving platter and keep warm while finishing the sauce.
Pour fat out of the skillet and discard.
Add stock (or wine, vermouth or water) and boil down rapidly.
Scraping up the coagulated pan juice till reduced to almost a syrup.
Off heat, swirl 2-3 Tablespoons of butter into the sauce - 1/2 Tablespoon at a time until absorbed into the sauce.
Pour the sauce over the hamburgers and serve.