Bev's Jazzed-Up Cashew Shrimp
Bev I Am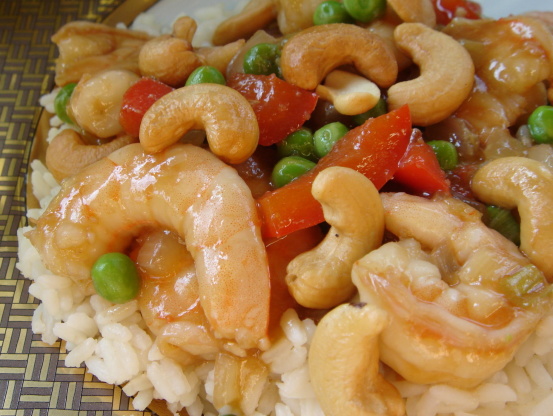 Serve with rice for a spectacular meal.

We enjoyed this cashew shrimp recipe last night for dinner. The prep was very easy and the variety of colors of veggies makes for pretty plating. The flavor was nice, though our personal preference is for a little more heat. We served over jasmine rice. Thanks for posting!
Combine peanut and sesame oils in a large skillet; heat on med; add and brown dried red chili pepper.
Add green onion and minced garlic and saute for 30 seconds.
Add chopped onion and red bell pepper; cook, stirring on med-low heat for 3 minutes, or until vegetables are crisp-tender; remove 10 red chili peppers.
Add shrimp and cook until almost pink, about 3 minutes.
Add peas, broth, salt, freshly grated ginger, ground ginger.
Bring to a boil, reduce heat, cover and simmer for 5 minutes.
In a bowl, mix soy sauce, red wine vinegar and cornstarch; stir into shrimp; cook and stir for 1 minute.
Stir in cashews.
Serve immediately.