Kim127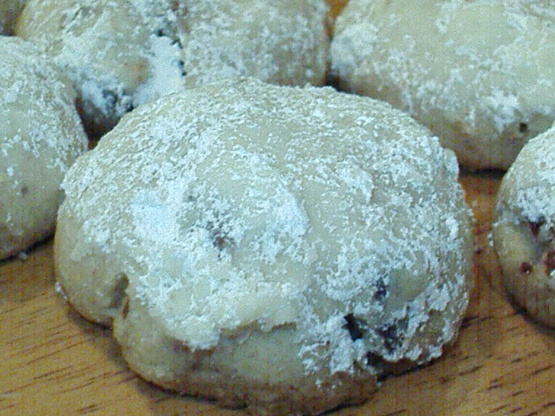 These are a must at our house during the holidays. They don't last long, That is why I like this larger recipe.I think that BUTTER is a must in Pecan Sandies. Enjoy (prep time does not include chill time.)

Top Review by Kim127
Yummy! My mom is going to love these when I bring some home for Christmas. She is a big fan of pecans and this is right up her alley. Of couse the man and I also really like them. I double rolled them in the sugar like Barb suggested. I will say that these don't really spread much while baking so I was able to put them pretty close together. Thanks Barb for a new Christmas cookie standard!
Cream to gether butter and sugar until smooth.
Beat in water and vanilla.
Stir in the flour and pecans until well blended (I use the mixer).
Cover dough and chill at least 4 hours (can be chilled over night).
Preheat oven 325 degrees.
Shape dough into walnut sized balls or cresents.
Place 2 inches apart onto cookie sheets.
Bake for 18 to 20 minutes.
Roll in powdered sugar while still warm.
I like to double roll them in the powdered sugar.