Berry Delicious Rhubarb Crisp Recipe
Annacia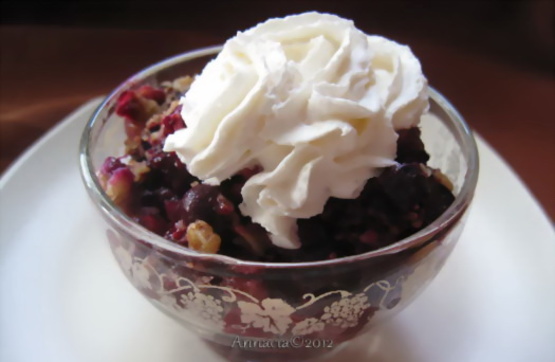 What a perfect springtime dessert! It's filled with color and fresh fruit flavor the whole family will savor. Grate about a tablespoonful of fresh orange or lemon zest and add to the crumb mixture for extra flavor. ** If using frozen rhubarb, measure rhubarb while still frozen, then thaw completely. Drain in a colander, but do not press liquid out.

Top Review by Tisme
What a delicious and warming dessert to enjoy on a cold winter's night.Except for one exception, I followed the recipe as written.The only difference I made was to use apples, instead of blackberry. This was a lovely crisp and the whole family enjoyed it with custard for dinner. We especially loved the crisp topping.Thanks Lavender Lynn we will be enjoying this one again.
In a small bowl, combine the flour, brown sugar, oats, butter, 1 teaspoon vanilla and cinnamon. Set aside 1 cup for topping; press remaining crumb mixture into a greased 8-in. square baking dish. Top with rhubarb, strawberries and blackberries.
In a small saucepan, combine sugar and cornstarch. Stir in water. Bring to a boil; cook and stir for 1-2 minutes or until thickened. Stir in remaining vanilla. Pour over fruit; sprinkle with remaining crumb mixture.
Bake at 350° for 25-30 minutes or until bubbly. Serve with ice cream.