Beef Filets With Cognac-Mushroom & Onion Sauce
teresas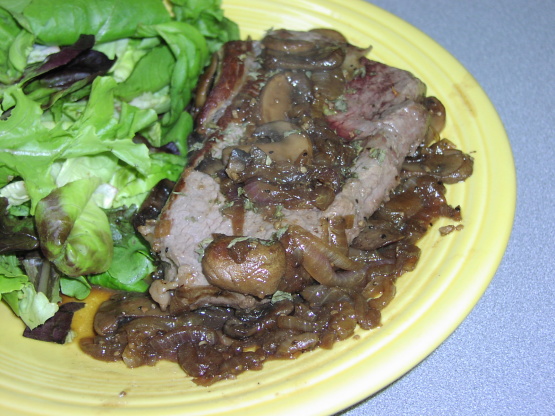 I love these, I make them from memory - here is my attempt at writing this down and giving you quantities.

Although it took abit of attention to prepare, the onion mushroom mixture was great. I wasn't fond of the way the steak was prepared, I think I would prefer it grilled or maybe put some mixture on top of steak (to meld the flavours) while they finish cooking. I used brandy for the cognac... I'm curious what the red wine would be like so I'll try that next time. Nice recipe, thanks for sharing.
Sprinkle beef evenly with 1/2 teaspoon salt or 1/4 teaspoon kosher salt and 1/2 teaspoon pepper.
Brown filets in 1 tablespoon hot oil in an ovenproof or cast-iron skillet over medium-high heat 3 minutes on each side.
Remove filets, reserving drippings in skillet.
Melt 2 teablespoons butter in drippings over medium-high heat.
Add yellow and red onion rings, and saute 5 minutes.
Add green onions, shallots, mushrooms and garlic.(If more oil is needed add remaining tablespoon), saute 15 minutes or until lightly browned.
Stir in cognac and broth; cook over medium-high heat, stirring constantly, until liquid evaporates(about 5 minutes).
Place filets on top of onion mixture in skillet.
Cover with aluminum foil.
Bake at 400F for 15-20 minutes or until thermometer inserted in thickest portion of meat register 135F(medium rare).
Remove filets from skillet, reserving onion mixture in skillet, cover filets loosely, and let stand at room temperature 10 minute.
Cook onion mixture over medium heat, stirring constantly; 5 min or until liquid evaporates.
Add salt and pepper to taste, if needed.
Serve with filets.