Quaffle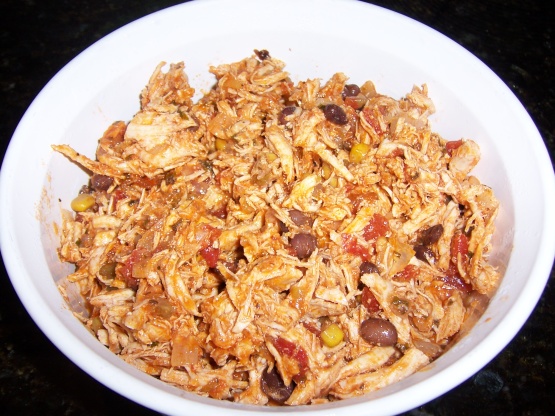 My favorite chicken taco meat recipe that I got from a coworker. I usually serve these with flour tortillas, cheddar cheese, and some guacamole. Great for a get together, as you can cook before hand and have people assemble their own. I also love to snack on this cold. Can easily be scaled up or down depending on how many people you are serving.

Top Review by Tess 2
Just the recipe I have been looking for. I made it just as written except I skipped adding the salsa. I wanted the filling not to have a tomato base since I will be serving with pineapple/avocado salsa. I looked a long time to find a recipe that didn't involve tomatoes or one that could be altered a bit. This one is great. Thanks for posting.
Put chicken in a large dutch oven or pot.
Add sliced onion, quartered garlic, peppercorns, and jalepeno.
Add enough cups of water to cover by about 1 inch.
Bring to a boil, then let simmer for 45 minutes.
Take chicken out and set aside.
Strain cooking liquid, saving water, but throwing away aromatics.
Shred chicken.
Put oil in saucepan and saute onion and garlic for a few minutes.
Add shredded chicken, salsa, cilantro, and chicken broth to cover. Cook down an hour and a half until most liquid is gone.
Season with salt if needed.