Derf2440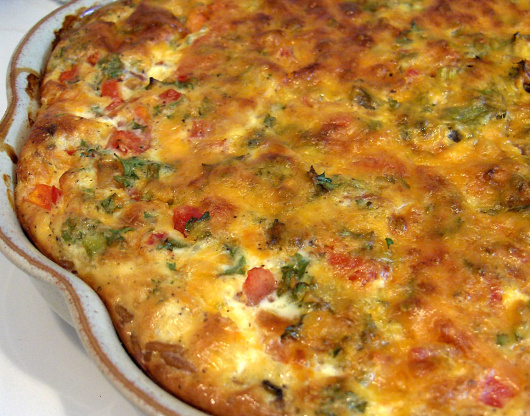 Perfect recipe for using up leftovers! If you have eggs, milk, rice and cheese, you can practically clean out your fridge right into your quiche pan. Sometimes I even add some leftover meat. It can be served fresh hot or cold or freeze it for a quick, easy meal during the week!

Axe, This recipe was easy to make and made excellent use of leftover veggies and rice, but suffers a little in it's blandness. I would make it again, but next time with the addition of some fresh herbs. I have, and have tried many similar recipes and while this one is not at all bad, it is not quite in the hemisphere's of my 4 or 5 star ratings ... (once you have been on Zaar a while you will find you get more demanding of recipes). That said, it's ideal for kids and was a lovely recipe for a week day dinner. Definiately very edible, just lacking raves. I will certainly make it again, Please see my rating system, a very respectable 3 stars:) Thanks !
CRUST:.
Mix together cooked rice, egg and soy sauce.
Spread evenly to cover well-buttered quiche pan or pie plate.
Bake rice crust at 350 F for 10 minute.
FILLING:.
Place chopped vegetable in bottom of crust.
Mix together: eggs, milk, salt, pepper and nutmeg. Pour over vegetables.
Top with grated cheese.
Bake at 350 F for 45 minutes or until set.
Remove from oven and let sit ten minutes before serving.