Annacia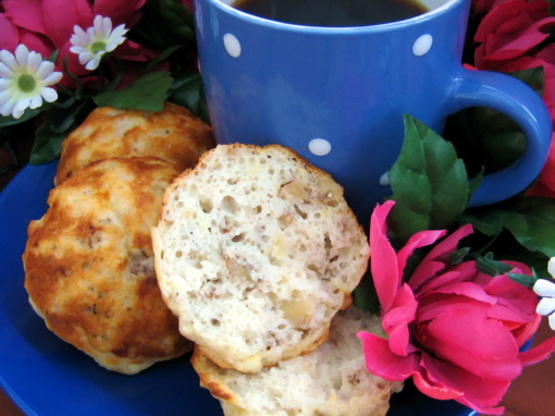 Sprinkiling cinnamon-sugar on the batter just before baking makes a crunchy top. I have also subbed chocolate chips for the walnuts.

Wonderful muffins. They are very simple and quick to make and turn out so light, moist and flavorful. I made 6 muffins using Splenda for the sugar and about 1 tsp of canola oil, skipped the raisins to lighted the sugar load. Sorry Marz but I did use fat free yogurt but as I said they didn't suffer from it (IMHO anyway). I need to mention that I baked my 6 at 350 and they were perfect in 24 mins.Simply scrumptious. Made for Photo Tag.
Preheat oven to 375 degrees F. Line a 12 cup muffin pan with baking liners.
In a small bowl mix 1/4 cup sugar with 1 tsp cinnamon. Set aside.
In a large bowl, mix flour, remaining 1/2 cup sugar, baking powder, salt remaining 1/2 tsp cinnamon, walnuts and raisins.
In a small bowl, beat together the banana, yogurt and egg with a fork. Stir in the butter. Stir the wet ingredients into the dry ingredients until just combined.
Fill the lined muffin cups. Sprinkle with the reserved cinnamon-sugar mixture on top. Bake until golden and toothpick inserted in the middle comes out clean, about 20 minutes.