Baked Spaghetti by Paula Deen
Nimz1466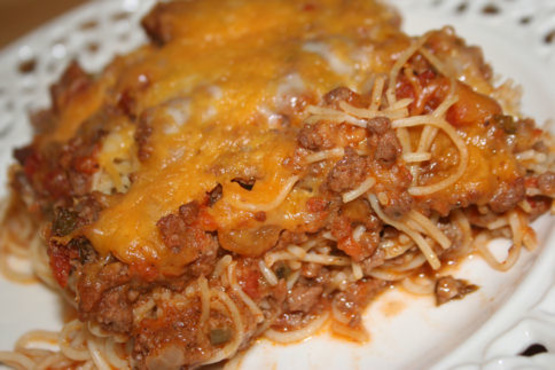 This recipe is one of the better Baked Spaghetti's I've tried. I think you could easily shortcut with prepared sauce and such, but you must use angel hair pasta and Jack cheese. It makes this! **edited to add: I have tried to increase pasta per reviews, but this does not work! You come out with a dry pasta! Please make just as written and rate on the recipe as written!

I've made this baked spaghetti at least ten times now, and it's a SMASH HIT every single time! This is the way spaghetti should taste, in my humble opinion.

Okay, first things first, I have two babies under the age of 2 years old, so I refuse to take the precious time to make that lovely-sounding sauce. (It really does sound lovely, but honestly! Too time-consuming! I digress....) I simply bought two 24oz containers of Ragu onion & garlic spaghetti sauce, and use about 1 1/2 jars of it.

Also, I used turkey instead of ground beef. When browning it, I seasoned it in the pan with Lawry's seasoning salt, garlic powder, onion powder, sage, Italian seasoning, & black pepper. Then I add the sauce to it, and voila! It smells so delightful, I must say. Additionally, I use a little more cheese than required, since the family and I are cheese lovers. But overall, even with my little tweaks, this dish is oh-so-tasty! Even my 20 month old who hates pasta will eat this! :)
Preheat the oven to 350 degrees F.
In a stockpot, combine the tomatoes, tomato sauce, water, onions, peppers, garlic, parsley, seasoning mixtures, sugar, and bay leaves.
Bring to a boil over high heat, and then reduce the heat and let simmer, covered, for 1 hour.
Crumble the ground beef in a large skillet.
Cook over medium-high heat until fully cooked, with no pink color remaining.
Drain the fat from the meat, and then add the ground beef to the stockpot.
Simmer for 20 more minutes.
Cook the pasta according to the package directions.
Cover the bottom of a 13 by 9 by 2-inch pan with sauce.
Add a layer of pasta and then a little less than 1/2 of each cheese; repeat the layers, ending with the sauce.
Bake in the oven for 30 minutes.
Top the casserole with the remaining cheese, return it to the oven, and continue to cook until the cheese is melted and bubbly, about 5 more minutes.
Cut into squares before serving.
House Seasoning: Mix ingredients together and store in an airtight container for up to 6 months.