Baked Rigatoni With Kalamata Olives
janj289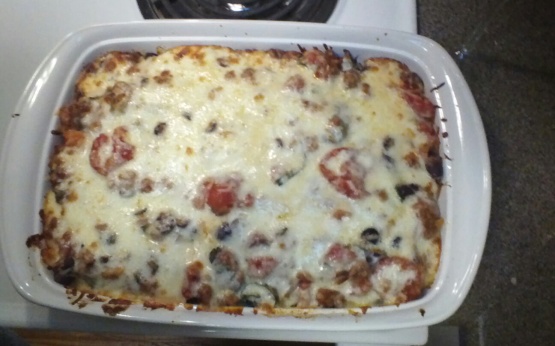 Delizioso! Olives, sausage, and tomatoes combined for a terrific dish. This is the type dish that I don't really measure; I just throw in a lot of garlic and basil until it looks about right.

This was an unexpectedly absolutely delicious dish! I was visiting family made it on a spur of the moment thought for a day after Thanksgiving dinner. I shared it with family and they raved about it and asked me for the website and saved it in their electronic devices! Tasted good for a few days! It was such of an attractive dish that I posted a photo of it here.
Preheat oven to 375°F.
Cook pasta according to directions, making sure to keep it al dente. Drain and place back in cooking pot. Set aside.
Meanwhile, in skillet cook sausage and onions until sausage is done (crumble sausage as it cooks). Drain well and set aside.
In same skillet add olive oil and garlic and cook 1-2 minutes.
Return sausage and onion to pan with garlic.
Add tomatoes, tomato sauce, and water. Stir well. Cook at a high simmer. Add olives. Cook until sauce has reduced slightly, about 15 minutes. Turn off heat. Stir in basil.
Pour tomato sauce over pasta and toss to coat well.
Place layer of 1/3 of pasta in bottom of Pam sprayed casserole. Top with 1/2 of mozzarella. Top with another third of pasta. Top with remaining mozzarella. Repeat with final layer of pasta. Cover with foil.
Cook in oven for thirty minutes.
Remove foil and top with parmesan. Cook an additional 15-25 minutes. (We like it crunchy on top so cook the full 25 minutes. Cook it how you like it.).