Asopao De Pollo - Caribbean Chicken and Rice
Pneuma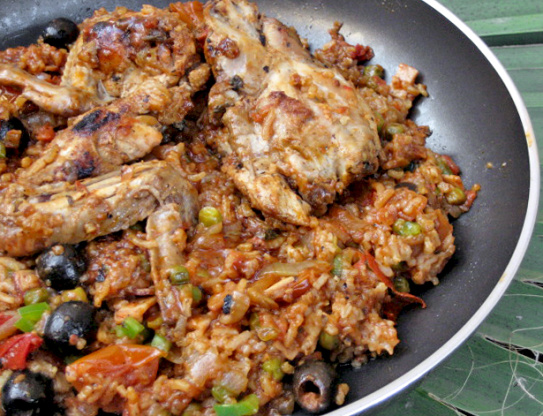 I found this recipe in my Betty Crocker's International cookbook and thought it sounded pretty good. It is a chicken dish with rice, filled with spices, stewed tomatoes, capers, olives, ham, garlic, peas and more. I can't wait to try it myself. It could be a one dish meal or you could serve it with a salad. Hope you enjoy!

Tasty dish, liked the different combinations of ingredients. I used a package of 6 chicken thighs. To our personal preference, we thought this dish needed more salt. Made for the Dining Daredevils for ZWT5 Family Picks.
Sear chicken pieces and diced onion in a deep 12" skillet or dutch oven. (You may have to use two pans if it doesn't fit in one; dividing the spices, broth, tomatoes etc between the two pans.).
Add broth, salt, oregano, coriander,blended tomatoes, onion, and garlic.
Heat to boiling; reduce heat.
Cover and simmer for 30 minutes.
Cook rice according to directions on bag, except add chicken broth where it calls for water.
While the rice is cooking add peas, green pepper, ham, olives, capers and 1 tablespoon of the caper liquid to chicken dish.
Cover and simmer the chicken dish until the rice is done.
Serve the chicken on top of the rice, pour the sauce over and sprinkle with parmesan.