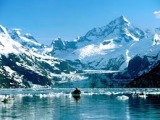 This is a healthy recipe from Ellie Krieger. I like to use these as a "to-go" dinner option for those busy weeknights. Good for lunches, though, too! I usually use a store-bought rotisserie chicken, instead of the 4 cooked chicken breasts, to make this recipe super fast and easy. I sometimes use regular romaine lettuce if I dont' have napa cabbage leaves. This is a very flexible recipe.
Directions
Make the sauce first, by combining the yogurt, mayo, brown sugar, soy sauce, mustard, sesame oil and chili sauce and stir until well blended.
To make each wrap, place 2 cabbage leaves on 1 wrap, then layer with a quarter of the chicken and peppers.
Drizzle with 2 T. of the sauce.
Top with an additional cabbage leaf.
Roll the wrap and serve or wrap in some foil to go!
Reviews
Most Helpful
Oh my goodness the sauce is out of this world! I cooked up a few chicken tenders and made as directed. The sauce compliments the chicken, red pepper, and napa cabbage so nicely it's almost hard to believe there are so few ingredients in this wrap. I thought adding maybe another 1/4 to 1/2 tsp Sriracha would be good. Did I mention we loved the sauce? LOL. Thanks for sharing the recipe, it's a keeper. Made for the Asian Region of ZWT6.
These were so very tasty and thoroughly enjoyed! Used the ingredients as specified, but I did a couple of assembly things differently. I shredded the cabbage to begin with. Once everyone had finished their dinner, I put the rest of the peppers, chicken and sauce in the bowl with the cabbage and tossed. Dh and I felt the flavors were able to shine through even more without the wrap and preferred it as a salad. My 11yo asked to take a wrap in his lunch to school the next day, so that is a hit around here! To save time in a pinch, I would buy the rotisserie chicken, pre-shredded cabbage or slaw mix and go from there. Thanks for sharing this great recipe! Made and reviewed for the No Nonsense Nibblers of ZWT 6!
Just delicious and so easy - we had a dinner on the go tonight and this was perfect. As I had no cabbage I doubled the red peppers. I may well have this again for lunch tomorrow as it was so great.