Arugula and Almond Salad With Dried Cranberries
BarbryT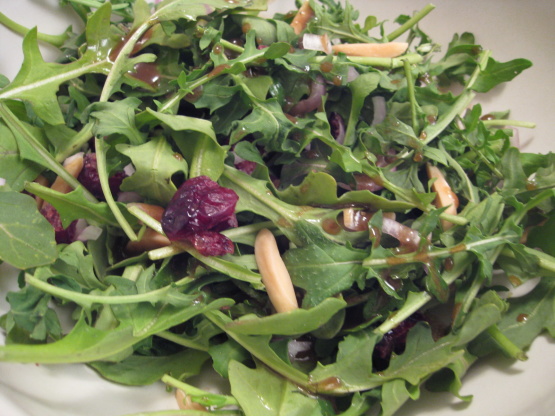 Quick and easy salad that your children will enjoy making with you.

I had to use romaine lettuce instead of arugula because my arugula went bad, but it was still good and the dressing was very easy and tasty.
Begin by making the vinaigrette. Combine the vinaigrette ingredients in a mixing bowl and whisk together until the sugar and salt are dissolved. Add the olive oil in a thin stream while whisking until vinaigrette is emulsified.
Now prepare the salad. In a large bowl, toss the arugula, sliced red onion, toasted almonds and cranberries. Dress with balsamic vinaigrette just before serving and toss gently to coat everything. Divide amongst plates and serve immediately.