Artichoke Hearts à La Grècque
PaulaG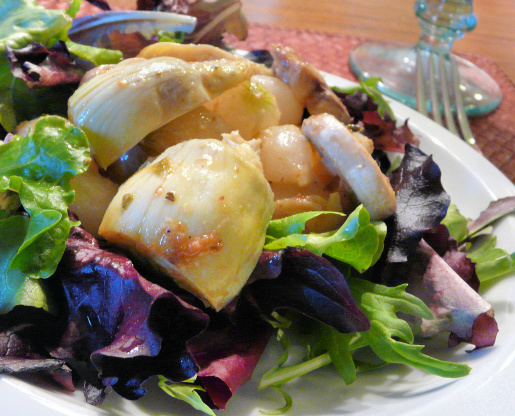 A recipe for mushroom lovers, a different salad to refresh your summer days. Posted for Zaar World Tours: GREECE, since this is a recipe in the Greek style.

First of all, THANK YOU for posting the second set of measurements! While I can see it being confusing if someone changes the number of servings, since I didn't it was a great help! Secondly, I wasn't entirely sure where the garlic was supposed to come in, so I sauteed it with the onions, and used quartered artichoke hearts. The red of the dressing looked a little odd to us (that color should be on a hot pasta, not cold salad! lol), but it is VERY tasty! Thank you for posting, made for ZWT4.
Make the dressing by combining 2 Tablespoons of the olive oil with the vinegar, tomato purée, thyme(or basil), salt and pepper and whisking well.
Blanch the onions in boiling water for 5 minutes and drain well.
Heat 3 Tablespoons of olive oil, add the blanched onions and sugar and cook for several minutes.
Add the mushrooms and toss over a high heat for 30 seconds- to one minute.
Add the mushroom mixture to the dressing, then add the artichoke hearts and mix well.
Cover and chill before serving.