Apricot and Ginger Scones
-Sylvie-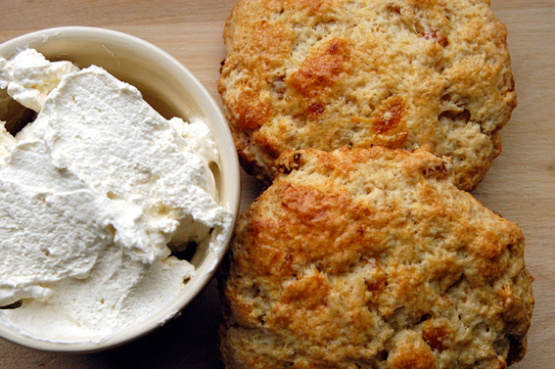 This is an English recipe, from Prue Leith's column in the Daily Mail. I love the ginger cream that makes these scones really special. Perfect for afternoon tea.

Those are delicious. Thanks for posting such a great recipe. I couldn't find any candied ginger in the supermarket, so I just served them with wipped double cream, to which I added a little bit of bourbon vanilla suger. Mine needed about 12-14 minutes rather than seven as stated, but apart from that the recipe worked perfectly!
Oven temperature 220°C/425°F.
Flour a baking sheet.
Sift flour with salt into a large bowl.
Rub in the butter until mixture resembles breadcrumbs.
Stir in sugar.
Add apricots.
Make a deep well in the flour, pour in milk and mix to a soft, spongy dough with a knife.
On a floured surface, knead dough lightly until it is just smooth.
Roll or press out to 2.
5cm/1inch thick.
Stamp into rounds with a pastry cutter.
Brush scones with beaten egg for a glossy crust, sprinkle with flour for a soft one or brush with milk for a light gloss and soft crust.
Bake scones at top of preheated oven for seven minutes or until well-risen and brown.
Leave to cool on wire rack or serve hot from oven.
Stir chopped ginger and ginger syrup into whipped cream.
Cut scones in half horizontally and sandwich together with ginger cream.