MamaMeag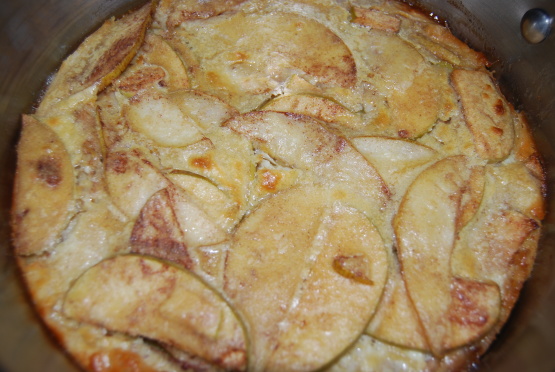 My favourite weekend breakfast in autumn when the apples on our tree are ripe. Delicious drizzled with maple syrup.

I made this recipe for my son's special breakfast on his 5th birthday! It was such a hit! I added 1/2 the sugar, and upped the cinnamon to a full teaspoon (can't go wrong with cinnamon and apples) :)! I also incorporated a sliced pear with the apple! It was delicious, and made enough for 3 adults and two kids!! Thanks so much for posting this recipe. We will be using it often! :) **Just an update! I made this without the sugar, but did drizzle in some honey, and it was still wonderful!
Preheat oven to 400°F.
Place a 12" skillet (with an oven-proof handle) in the oven to heat.
Meanwhile, make the batter. In a medium sized bowl, use an electric hand mixer to beat eggs until frothy. Beat in flour, milk and salt on medium speed for about 1 minutes.
Remove skillet from oven. Put butter in skillet and swirl until all of the butter has melted and coated the skillet.
In a small bowl, mix the sugar and cinnamon. Toss with apple slices to coat.
Arrange coated apple slices in skillet and pour the batter over. Bake uncovered for 25 minutes or until pancake is puffy and golden brown.
Cut into quarters and serve.