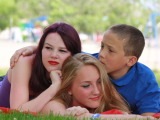 Found a Scandinavian recipe contest and this was one of the winners. I haven't had a chance to make it yet but it sounds easy and good!
3 ounces cream cheese, softened
2 tablespoons sugar
1⁄2 teaspoon vanilla
1 (12 ounce) package refrigerated biscuits
1 medium apple
1⁄4 cup pecans, chopped
1 cup caramel topping
Directions
Preheat oven to 375°.
Combine cream cheese, sugar and vanilla until smooth. Set aside.
Separate biscuits and flatten each on baking stone.
Peel, core and slice apple. Chop apple into smaller pieces.
Spread cream cheese mixture evenly over biscuits.
Top with chopped apples; sprinkle with chopped pecans.
Drizzle topping over pecans. Bake 15 minutes or until biscuits are browned.
Reviews
Most Helpful
This was really good I didnt have pecans so I used walnuts, and I didnt use all of the sugar trying to cut down . Easy to make and tasty. Nice for a brunch or evening snack ,
You could put these in crescent rolls endless options Thanks for posting.
I cannot believe that I did not rate this recipe yet, so here it is. I have had to give this lusious recipe to so many satisfied customers. Only a few changes; one I used brown sugar in place of sugar and sprinkled on cinnamon on top of apples. A simply great and easy danish.
I wish I could give this recipe more than 5 stars! I made this for breakfast with coffee for visiting family members and it got rave reviews! I had left my refrigerated biscuits out of the fridge by accident and was not sure they would work out but I can't imagine them being any better. I don't have a baking stone so I used an insulated cookie sheet which I sprayed lightly with cooking spray. EASy and DeliCiouS!!!