Amy's Potato Soup (Crock Pot or Stove Top)
AmyMCGS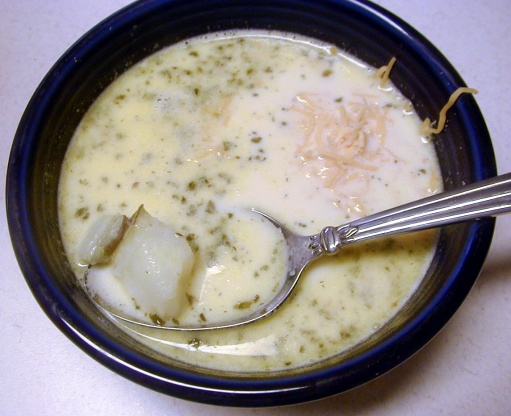 I love potato soup, and this is the recipe I've come up with after trying several recipes and combining them. It's easy to put in the crock pot and forget about it, or, if you're in a hurry, it can be made in about twenty five minutes on the stove top.

I love cream of potato soup. This recipe sounds really good. May I suggest one simple addition> Whenever I make potatoes for mashed potatoes; I always add a little bit of dry dill weed to the cooking water, as well as onion. It gives a really nice bit of difference to the flavor. I recommend adding some dill weed to the soup. I'm sure you will like it. Pat Burgard, Huntley, Illinois. P.S. I always add a little chopped onion when cooking any veggie. You'd be surprised how it enhances the flavor. As a result, all my kids and grand kids love their veggies.
Place everything but the milk and flour in the crock pot and cook on low all day.
30 minutes to one hour before serving, stir together the flour and evaporated milk until smooth, then add to soup.
After the soup starts to thicken slightly, it is ready to serve.
To make on stove top: boil potato and onion until tender, then simmer the rest of the ingredients on medium heat until thickened.
I usually garnish bowls with shredded cheddar cheese at the table.