Leslie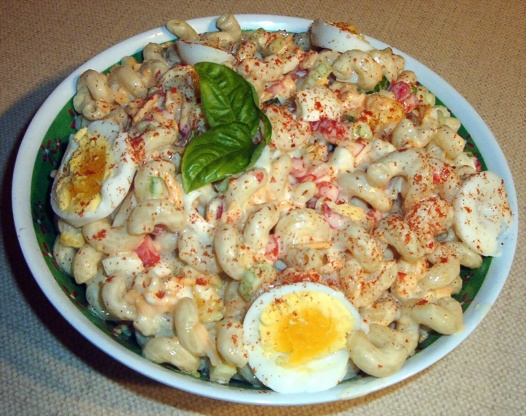 I really love Amish Macaroni Salad, and this is my favorite recipe for it. Amish Macaroni Salad is somewhat on the sweet side, so if you don't mind your salads sweet, I think you'll like it too. It's even better the next day, so if you can, let it sit overnight. I got the recipe from a Berk's County website a while back. NOTE: It does make a lot of salad, so if you wanted a smaller amount, it halves easily. Just use the 3 eggs chopped up and just garnish with paprika. Time does not including cooking the macaroni.

I just made this for a super bowl party and it's amazing. Tastes almost like the macaroni salad the Amish make
Cook macaroni as directed on package; Drain& cool.
In a bowl, whisk together the dressing ingredients so they are well-combined and smooth.
In a large bowl, gently combine the macaroni, celery, carrots, onions, and remaining eggs.
Fold the dressing gently into the macaroni salad mixture.
Place into your serving bowl and garnish with the reserved slice egg and paprika.
Let sit overnight for the best results.
NOTE: It was not in the original recipe, but I sometimes add 1/4 to 1/2 cup chopped green pepper if I have it around.