African Spinach and Peanut Butter Stew
Prose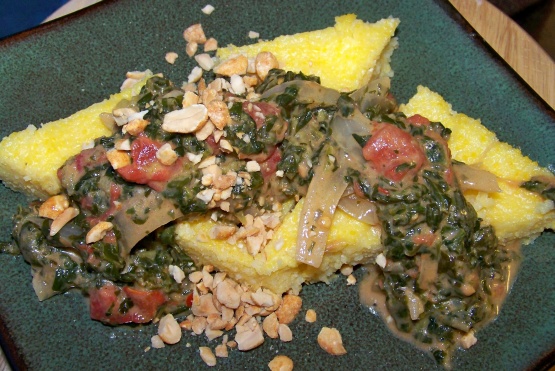 Found online at www.fooddownunder.com, while looking for economical 'African' recipes. Tasty and nutritious, a vegetarian main dish or a good side dish. You could easily add garlic, cooking it with the onions, add some mushrooms, adding with the tomatoes, and I think some chilli, fresh, powdered or flaked, would also add a bit of spice to this very versatile dish!

I find this dish to have interest, great nutrition, and some versatility as Karen Elizabeth and other reviewers suggests. I made as directed with canned tomatoes (mostly a time issue as I'm quite adept at peeling tomatoes :)) and a 16 ounce bag of frozen chopped spinach which I drained well beforehand. When I saw the price at the grocer for 2 pounds of fresh spinach I choked! I went back home and re-reviewed the recipe and thought that not only would frozen work for the recipe - it does - it also works for my budget! Caution: this is not a pretty dish; when I went to take a picture of it (I'm the 8th reviewer and no one else had submitted a photo - my first clue as to whether or not this dish is photogenic!) I literally threw on some peanuts to give it that J'nes se qua. Thanks, Karen Elizabeth, for a great and simple twist on spinach that goes well with Indian cuisine! Made for NAME tag game.
Slice the onions and fry in oil until soft.
Peel the tomatoes in boiling water (or use tinned tomatoes). Slice and add to the onions.
Wash, trim and chop the spinach coarsely.
Add to the stew and cook, covered, over a medium heat for 5 minutes, stirring to prevent sticking.
Thin the peanut butter with hot water to make a smooth paste.
Add to the stew.
Season with salt and pepper and cook for another 5 - 10 minutes, stirring and adding water if necessary to prevent sticking.
Serve over steamed rice, polenta, or mashed potatoes, in fact, you could eat it with anything, really!