robd16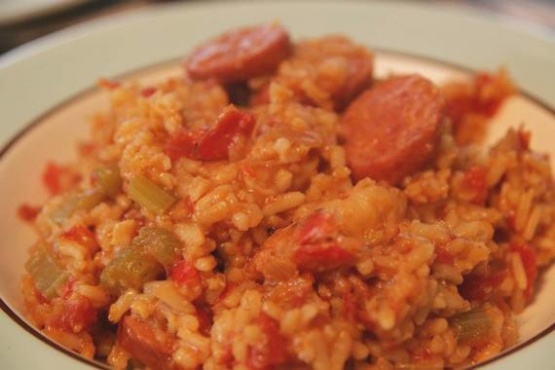 I could live on this! Everybody loves this one, and agrees that its better than any Jambalaya they've ever ordered in a restaurant. Give it a try, you won't be disappointed I promise. The secret is the roasted red peppers and the butter. Don't be put off that the dish is finished in the microwave, it just ensures that there are no burnt pans to deal with later! The only other veg that work in this I find are sweetcorn or butternut squash/pumpkin cut into chunks and added just before it all goes in the microwave. Even my friends from Louisiana find it hard to accept that its perhaps even better (If not a little different) than they make. Enjoy!

This was a quick and easy recipe. Great flavor even with smoked sausage instead of chorizo. The best recipe I have came across so far!
Heat a little oil in a frying pan and brown the chicken skin side down on a high heat. Transfer to a large pan leaving the oil in the frying pan. Do the same with the chorizo sausage and keep the oil in the frying pan. You only want to brown and not cook the meat as it will cook further later on.
Next fry the onions and peppers on a medium heat for 5 minutes or so until softened and just starting to colour. Now add the garlic, paprika, cayenne pepper, black pepper, salt, bay leaves and thyme to the pan and fry for 2 mins stirring all the time and making sure nothing burns. Turn the heat down if necessary. Add everything to the large pan with the chicken.
Add the rice, shrimp, sugar, stock cube and butter to the large pan.
In a blender put the roasted red peppers, tomatoes and water together and blend until smooth.
Measure out 3 cups of this liquid (you may need to add more water) and add to the large pan. Bring everything to the boil.
Now transfer to a large glass microwavable bowl. Seal tightly with cling wrap and microwave on high for 15 - 20 minutes depending on your microwave. If it looks like the rice is still wet, microwave again for 5 more minutes or until the rice has absorbed all of the liquid.
Leave to stand for at least another 20 minutes but will keep warm for longer than an hour.
Best served warm not too hot, with plenty of Tabasco or other hot pepper sauce.