Stuffed Poblano Peppers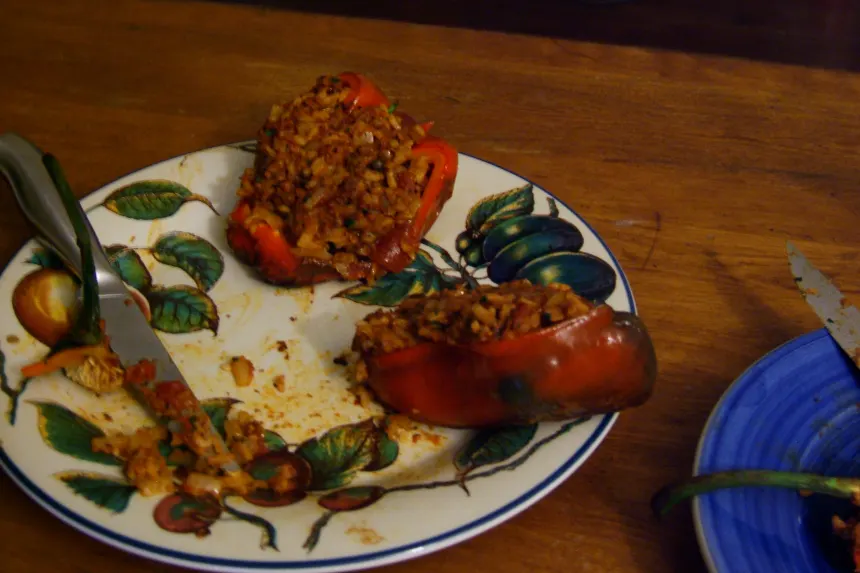 photo by domestication in pr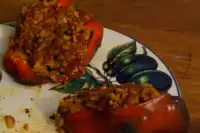 Ready In:

25mins

Ingredients:

13

Serves:

3
directions
Set the rice to cook. (Usually one cup of rice requires 2 cups of water, but the amount of water varies by type of rice--check your package. Add rice to boiling water, bring to a boil again while stirring, and then cover and simmer on low, stirring occasionally until water is absorbed.).
Wash the peppers. Sear under a broiler. If your broiler is a separate unit under your stove (like mine is), and you can't control the distance away from it, then you'll want to cut your peppers in half lengthwise first, and broil them rounded side up. If you can give them 4 or 5 inches from the broiler, then you can broil them whole, turning them every few minutes, and cut them afterwards. Either way, broil the peppers until the skin is blistered and blackened (10-20 minutes).
While the peppers are cooking, mince the garlic and fry in the olive oil on low-medium heat in a medium-sized pan, for 5 minutes. During this you can chop the onion and cilantro.
Turn the heat to medium, and add the soy-rizo, and cook for 3-5 minutes. Deglaze the pan with the cooking wine, getting all of the soy-rizo off of the bottom.
Drain most of the liquid from the canned tomatoes, and add them, cooking for 2-3 minutes. While the tomatoes are cooking add the spices. Green peppercorns are optional because not everyone has them, and serranos are optional because not everyone will want the extra spice. If you don't use green peppercorn, I'd recommend black pepper (crushed) to give it some of that flavor.
About this time, both the rice and the peppers should be finishing. Add the rice to the other sauce ingredients to taste (I ended up using about half. If you like your food more calm, you can add more, or you can use less to get more of a kick). Add the onion (raw).
Place the peppers cut-side-up on a dish, and spoon in the filling. We ate 4 of the halves before I got to take a picture--they were that good! But they look very presentable if you arrange them around the rim of a round plate, narrow ends facing the center.
Questions & Replies

Got a question?
Share it with the community!