Sausage Sauerkraut Bake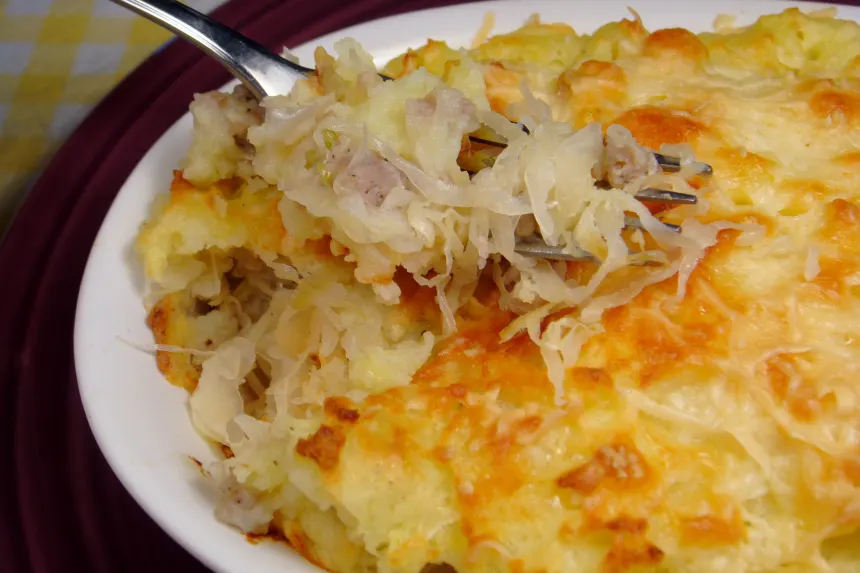 photo by Lori Mama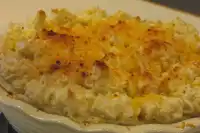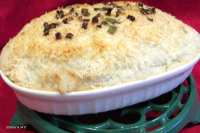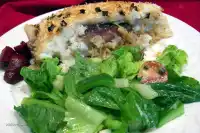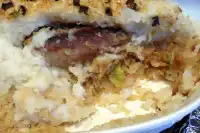 Ready In:

50mins

Ingredients:

9
directions
Peel and cook potatoes.
Meanwhile, combine sauerkraut and onion; place in a 2 to 3 cup casserole.
Brown sausage meat; drain; spoon over sauerkraut.
Drain potatoes; mash with milk, butter, salt and pepper.
Spread potatoes over sausage; sprinkle with Parmesan cheese.
Bake in a 400 degree oven for 25 to 30 minutes or till lightly browned.
This recipe can be doubled, tripled or made for a large gathering.
Just remember to increase the size of the casserole dish as well as the ingredients.
Questions & Replies

Got a question?
Share it with the community!
Reviews
This is one I'll definitely make again! I quadrupled the recipe using a jar of my home canned sauerkraut and the recipe for [recipe=43620]Farm Style Sausage[/recipe] with our home grown ground pork as the sausage. It just took a few minutes to peel the potatoes and get them on to boil. While they were boiling I mixed up the sausage recipe and browned it. By the time the potatoes were ready to mash, I had everything else in the casserole dish. I set the timer for 30 minutes and was off doing something else while it baked. When the timer went off, I didn't hear it and one of my daughters shut it off without mentioning it to me. Fortunately, I thought it was about time for it to be getting ready to come out of the oven, so I went and checked on it. It was a little dark on top, but hadn't started to burn...whew... It smelled wonderful in the car all the way to my MIL's and was a big hit with her, as well as DH and myself! (My MIL is terminally ill so I need recipes that transport well, as DH is staying with her and caring for her so I take their meals to them.) Even though she has never really cared for sauerkraut, she kept telling me over and over that this is really good and what a great cook I am. Thanks for sharing this recipe roslan and helping me to keep up with the challenge of stimulating my MIL's pallette!!!

 

DH loves saurerkraut and sausage so when I saw this knew that he'd love it. I doubled the recipe and used hot, spicy Italian sausages and had trouble removing from the casing so just chopped them up small, then once they were done added chopped Walla Walla sweet onions (didn't have green) and once all was soft added the saurerkraut and a 2 tsp of caraway seeds. Then put all in a pie pan and piped on the mashed potatoes. Topped with a combo of chedder and parm cheese and baked. It was so pretty and we have left over for tonight that I'm thinking may taste even better once all the flavors have melded together. We'll be making this one again.

 

We love saurkraut and are always looking for new ways to incorporate it. This recipe seemed so simple but we had never tried anything quite like it. It was a hit with every person in the house and was gone within the evening. I pretty much doubled everything, give or take because I had a full pound of sausage. I didn't really measure the sauerkraut I just heaped in a nice full layer on the bottom of a casserole dish (likely more than double) and I was happy I did.. the way the flavors all came together was really awesome and it seemed like an old-school recipe that had a reason for sticking around. Thank you so much!