Green Tomato Bread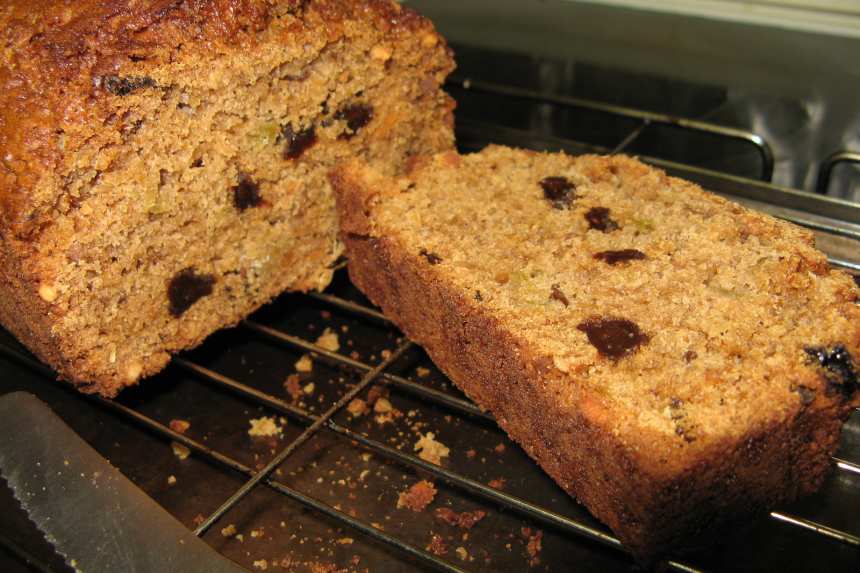 photo by Sharis2006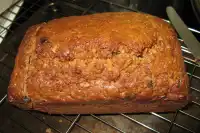 Ready In:

1hr 10mins

Ingredients:

16
directions
Sift together dry ingredients.
Add remaining ingredients.
Beat to mix well.
Pour into 2 greased and floured 8 by 3 3/4 inch loaf pans.
Let rest for 10 minutes.
Smooth loaves and make a slit along the center from end to end.
Bake at 350F degrees for 45-50 minutes.
Questions & Replies

Got a question?
Share it with the community!
Reviews
I didn't like this recipe, I LOVED LOVED LOVED IT SO MUCH!!!!!!!!!!!!!!!!!!!!!!!!!!!!!!!!!!!!!!!!! The day, the minute I saw this, I knew this would be great, A very nice bread, and what a huge loaf I have right here, the aroma has filled my whole house from one end to the other. THANK YOU so much for sharing this recipe. I love it as much as I love your carrot cookies. Just a few things in this recipe - I dont get nutmeg easily here, so, I omitted that and also omitted molasses. I used 4 tsps. of cinnamon instead of 3 and 1/2 cup margarine instead of oil. Also, I used 1 tsp. ginger instead of 1/4 tsp. It took 70 minutes for this bread to be baked in my oven. But, I strongly feel, it was well worth the wait:) I would recommend this recipe to everyone. Thank you, once again and keep 'em coming:)

 

This was excellent! I have never eaten such a delicious spice cake! It was very moist and the spice flavor blend was just heavenly. I had a hard time finding a true green tomato in January, so I used the firmest and most under-ripe looking grocery store tomato I could find and it worked out perfectly. One tomato made more than enough puree. I halved the recipe and it worked out just fine. I also omitted nuts and used currants instead of raisins, as that what what I had on hand.

 

Due to the blight that swept the Northeast this year, I have hundreds of green tomatoes that I was able to salvage. I pureed half of them and froze in one cup portions for this recipe. This bread is wonderful: moist, dark, and hearty! Perfect for the fall and winter months. I baked them in individual sized pans for 35 minutes.

 

So tired of fried green tomatoes, I made this bread with what I had on hand - 1 cup pecan halves instead of chopped walnuts, omitted the raisins, replaced molasses with brown turbinado sugar. I added an extra 1/4 teaspoon ginger. I just couldn't help myself! Sprinkled more turbinado sugar on top of the loaf half way through baking. The House smelled heavenly. Tastes wonderfully sweet and spicy. Will use the REST of my green tomatoes to make more.

 
Tweaks
So tired of fried green tomatoes, I made this bread with what I had on hand - 1 cup pecan halves instead of chopped walnuts, omitted the raisins, replaced molasses with brown turbinado sugar. I added an extra 1/4 teaspoon ginger. I just couldn't help myself! Sprinkled more turbinado sugar on top of the loaf half way through baking. The House smelled heavenly. Tastes wonderfully sweet and spicy. Will use the REST of my green tomatoes to make more.

 

This was excellent! I have never eaten such a delicious spice cake! It was very moist and the spice flavor blend was just heavenly. I had a hard time finding a true green tomato in January, so I used the firmest and most under-ripe looking grocery store tomato I could find and it worked out perfectly. One tomato made more than enough puree. I halved the recipe and it worked out just fine. I also omitted nuts and used currants instead of raisins, as that what what I had on hand.

 

I didn't like this recipe, I LOVED LOVED LOVED IT SO MUCH!!!!!!!!!!!!!!!!!!!!!!!!!!!!!!!!!!!!!!!!! The day, the minute I saw this, I knew this would be great, A very nice bread, and what a huge loaf I have right here, the aroma has filled my whole house from one end to the other. THANK YOU so much for sharing this recipe. I love it as much as I love your carrot cookies. Just a few things in this recipe - I dont get nutmeg easily here, so, I omitted that and also omitted molasses. I used 4 tsps. of cinnamon instead of 3 and 1/2 cup margarine instead of oil. Also, I used 1 tsp. ginger instead of 1/4 tsp. It took 70 minutes for this bread to be baked in my oven. But, I strongly feel, it was well worth the wait:) I would recommend this recipe to everyone. Thank you, once again and keep 'em coming:)