Fijian Honey Cake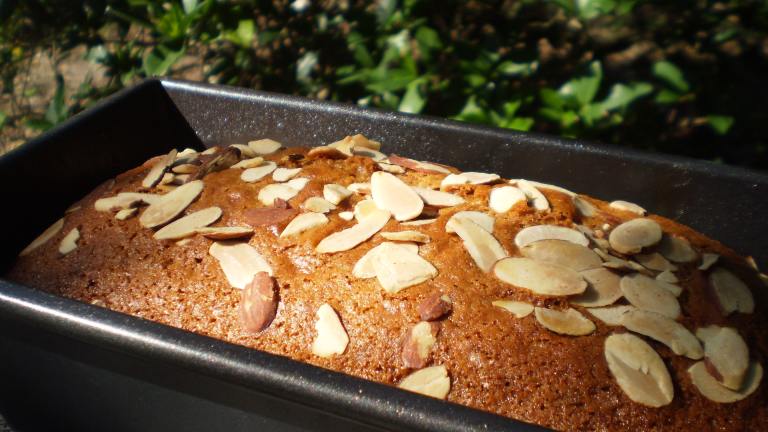 Honey Cake is one of the highly popular desserts of Fiji. The cake becomes moister and its flavors deepen a day or two after it is made.
Ready In:

1hr 10mins

Serves:

Yields:

Units:
directions
Preheat the oven to 350°F.
Coat a 9" x 5" loaf pan with nonstick cooking spray.
In a large bowl, combine all the ingredients except the almonds and beat until well blended.
Pour the batter into the loaf pan and sprinkle with the almonds.
Bake for 45 to 55 minutes or until a wooden toothpick inserted in the center comes out clean.
Allow to cool for 10 minutes then remove from pan to wire rack to cool completely.
Submit a Recipe Correction
RECIPE MADE WITH LOVE BY
"Honey Cake is one of the highly popular desserts of Fiji. The cake becomes moister and its flavors deepen a day or two after it is made."
It turned out great! I used Almond Flour, Mayo (in place of sour cream), Sugar in the Raw, 4 eggs, Pumkin Pie Spice (in place of Allspice), a little Cloves (along with the other ingredients) and I shaved some 88% chocolate in the batter. It was a funnier batter and I had to cook it for at least 35 mins. as cupcakes, 45 mins. even in a mini loaf pan, but it's really good.

I made this for "World Thinking Day" a Girl Scout event celebrating our sister scouts around the world! This was a HUGE hit!!!! I made copies of the recipe to bring and ran out, I had to refer them to the website I was concerned about making loaves and not having enough, so instead I made mini muffins, they were about 1 1/2 in. I made 2 batches of a double recipe. Cooking time was right around 13 min. Then I made a batch of large muffins for home and sprinkled the top with raw sugar. Yum! Those muffins took about 18 min to bake. This also was a double batch for 10 extra large muffins.

This cake is amazing! Simple, not too sweet, full of delicious flavor. It would make a wonderful breakfast or coffee cake too. I made this for a Fiji party thrown by the Fijians in my city - all three of them - and this was a huge hit with everyone. The Fijians all agreed that they had never before eaten honey cake and it was 100% news to them that this was a Fijian dish. However, they also agreed that it should be and invited me to bring this honey cake to all future Fiji parties. One quick note - the almonds on top of my cake singed. My oven temperature can be wonky and I know that's the issue, not the recipe - but I would flag that the nuts on top need to be closely watched.

My daughter made this for a girl scout event - they needed to have a food to sample that would be traditional to Fiji. It did feel more like a banana bread-type loaf versus a cake. But one thing to note, she started at 45 minutes for baking and that was way too long. She had to make 6 loaves, and by the end she determined that about 30-35 minutes was more on target. Maybe the type of honey used makes a difference? At 45 minutes ours gave off a bit of a burned honey smell and it was dry and over done. You can always bake longer if you find 30 - 45 is not enough ... but you can't undo 45 minutes and a dried out loaf!