Corned Beef Shepherd's Pie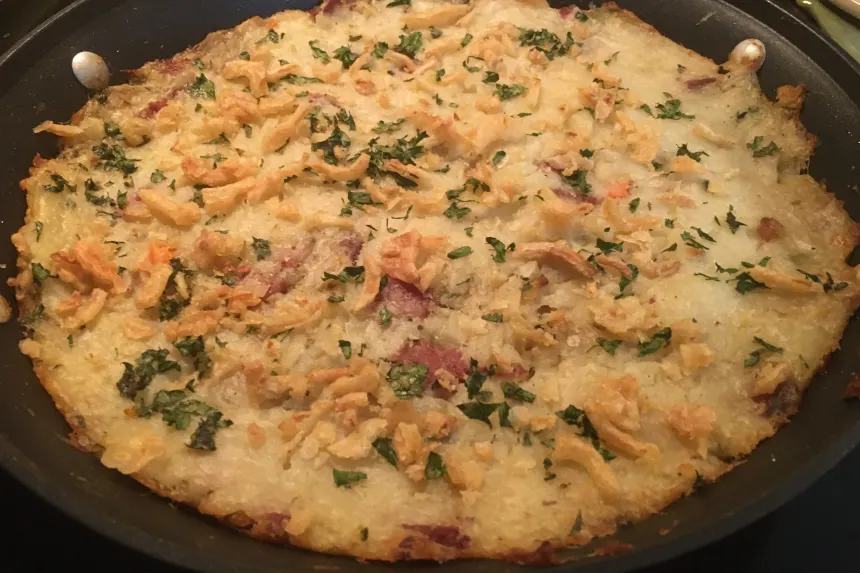 photo by JackieOhNo!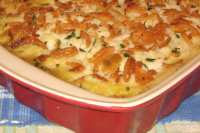 Ready In:

1hr 10mins

Ingredients:

16
directions
PREPARE your favorite recipe for seasoned mashed potatoes, to yield 2 1/2 to 3 cups (TIPS: Keep it basic: Butter, milk, salt and pepper); BEAT one large egg yolk then fold well into potato mixture; SET aside; PREHEAT oven to 375 F; SPRAY a 2.5 quart casserole dish (or a deep-dish 10-inch pie plate, or an 8" x 8" square baking dish) with non-stick cooking spray.
STRAIN 1 cup leftover corned beef broth into a small mixing bowl; RESERVE approximately 2 cups corned beef, 1 cup cabbage, and 1 cup carrot (set aside); INTO strained broth, add 1/2 teaspoon spicy brown mustard, 1/4 teaspoon prepared horseradish, 1/4 teaspoon ground coriander, and salt and freshly ground white (or black) pepper to taste; VIGOROUSLY whisk 2 1/2 tablespoons cornstarch into broth to make a slurry, until dissolved and smooth.
TRIM fat from reserved corned beef; CUT corned beef and reserved vegetables into bite-sized pieces, to yield 2 cups each; PEEL and chop one small onion; MINCE 1 1/2 tablespoons parsley.
MELT 2 tablespoons salted real butter in a saucepan over medium-low heat; STIR in the chopped onion and one tablespoon of the parsley (reserving 1/2 tablespoon for the garnish); SAUTE until onions have softened.
VIGOROUSLY whisk in the prepared broth slurry all at once into the saucepan mixture until consistently blended; RAISE heat to medium-high and bring to a boil while whisking until slurry is thickened; ADD meat and vegetable mixture to saucepan; FOLD ingredients together without disturbing, just until evenly blended;.
SPREAD mixture levelly into prepared baking dish.
TOP evenly with mashed potatoes, decorating into swirls using a flexible spatula (or use a fork if desired, to create grooved swirls); DOT with grated cold butter if desired, for a golden, buttery top crust.
SPRINKLE remaining 1/2 tablespoon minced parsley over casserole.
BAKE casserole for 30 minutes; SPRINKLE French-fried onions over top and bake for just 2 minutes longer (be careful not to burn French-fried onions!); ALLOW to cool and set for 5-7 minutes before cutting.
SLICE, serve and enjoy!